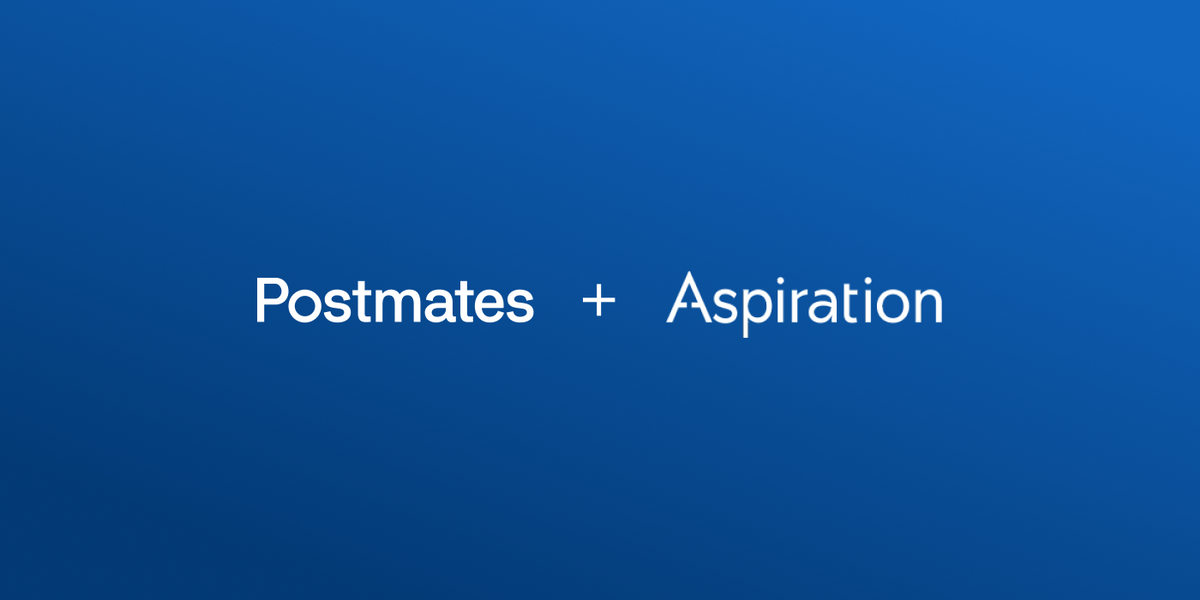 Postmates Partners with Aspiration Creating Positive Impact With Every Dollar Spent
Nobody should have to sacrifice financial wellness in order to be able to live within their values. That's why this summer Postmates piloted a partnership with Aspiration, to provide our Fleet with a convenient, sustainable way to spend and save their money. 
Unlike traditional big banks, which force customers to pay $300 or more in annual fees and lend customer deposits to fossil fuel and gas companies, Aspiration offers benefits that help customers do right by their wallet AND the planet all at the same time. Aspiration offers its customers fossil fuel free deposits, the ability to plant a tree every time they round up their purchase to the nearest dollar, and carbon offsets for every gallon of gas purchased. It also provides fee-free withdrawals at 55,000+ ATMs – more ATMs than those owned by the country's three largest banks combined — and it has no required monthly fees. 
At Postmates, we want to help connect our Fleet with all the amazing benefits Aspiration has to offer, particularly at a time when financial well-being is critically important for flexible workers on the go. From June 30th through September 30th, 2020, members of the Postmates Fleet are able to open an account with Aspiration and receive a $75 credit to jumpstart their savings. The account provides up to 10% cashback on debit card purchases and up to 15x higher interest rates than the national savings average. 
We believe our Fleet should have access to the resources they need to find success on and off our platform, and we will continue to expand our partnership with Aspiration so that even more of our Postmates community can take advantage of smart, sustainable banking that puts customer values first. Our commitment to investing in our community is always important to us, especially during this difficult time. That's why we want to make sure our Fleet has access to the very best financial resources, and why we recently partnered with the Career Transitions Center of Chicago to help members of our Windy City Fleet find their dream job, even in a difficult economy. It's also why earlier this year we teamed up with Womply to connect thousands of drivers with the federal funds available to them through the CARES Act. 
As the country continues to try and navigate the pandemic and its economic consequences, Postmates will keep finding ways to support our Fleet so that they can pursue their financial and career development goals. Because we know that we are at our best when the people who power our platform have more opportunity, not less.
unlisted