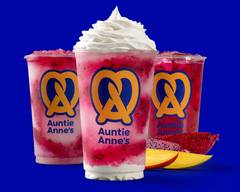 Location and hours
662 W 14 Mile Rd, Troy, MI 48083
Sunday - Monday
12:15 PM - 5:00 PM
Tuesday
Closed
Wednesday - Saturday
12:15 PM - 5:00 PM
Auntie Anne's (662 W Fourteen Mile Rd)
662 W 14 Mile Rd, Troy, MI 48083
Enter your address above to see fees, and delivery + pickup estimates.
Football Favorites

Game time snacks are not the place to play around. Feed your crew with options from our Football Favorites menu. Hut, hut. Order!

Snack Packs for 4 (or more!)

Add some variety to snack time with our NEW, Family Snack Packs. The best of the best from Auntie Anne's, packaged and priced at a value.

Pretzel Nugget Bucket Snack Pack

Mini Dogs Bucket Snack Pack

Pretzel Buckets

Food is meant to be shared! Feed groups of 5-10 with our Pretzel Buckets.

Original Pretzel Nuggets Bucket

Cinnamon Sugar Pretzel Nuggets Bucket

Pretzel Bundles

Create the perfect mini-meal by bundling up your favorite pretzel snack, dip and drink, all in one.

Regular Pepperoni Pretzel Nuggets Bundle

Regular Pretzel Nuggets Bundle

Cinnamon Sugar Pretzel Bundle

Pretzel Nuggets

Bite-size that tastes life size!

Cinnamon Sugar Pretzel Nuggets

Pretzel Dogs & Mini Pretzel Dogs

All of our Pretzel Dog products are proudly made with Nathan's Famous® all-beef hot dogs.

Classic Pretzels

Whether you're feeling salty or sweet (or a little of both), we have what you crave! Choose from our Classic Soft Pretzel flavors for the perfect snack.

Refreshing Drinks

The perfect pretzel pairing. Quench your thirst with a refreshing Lemonade or soft drink from Coca-Cola.

Dips

Add dips to your order to elevate your snacking experience.
Frequently asked questions