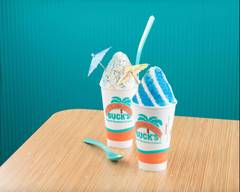 Location and hours
582 East 12300 South, Draper, UT 84020
Sunday
Closed
Monday - Thursday
12:00 PM - 9:00 PM
Friday - Saturday
12:00 PM - 9:30 PM
Bahama Buck's (582 East 12300 South)
582 East 12300 South, Draper, UT 84020
Enter your address above to see fees, and delivery + pickup estimates.
Catering

Serve your own Tropical Dessert Experience.

Signature Snos®

Try one of our curated Snos® for the the Ultimate Tropical Dessert Experience

Create Your Own Sno®

Create your own shaved ice masterpiece by choosing from over 100 Bahama Buck's original gourmet flavors then top it off with one (or more!) of our signature toppings.

Red Bull® Infusions

Our Red Bull® Infusions pair your favorite energy drink with our famous Bahama Buck's flavors!

Island Smoothie Fruit Blends

Made with real fruit, no high-fructose corn syrup, and gluten free. Non-fat vanilla Greek yogurt adds a boost of protein.

Island Smoothie Cream Blends

Shake, dessert-like blend with ice cream and our original gourmet flavors, and topped with whipped cream and a cherry.

Bahama Sodas

We blend your favorite soft drink, our original gourmet flavors, and Tropic Creme to create the ultimate soda experience!

Açaí Bowl

Bahama Buck's Açaí Bowl is truly an adventure for the taste buds. The main ingredient Açaí, (pronounced ah-sigh-ee), is a superfruit carrying high antioxidant properties straight from the tropical Amazon regions of Brazil.

Frozen Café Favorites

Our frozen coffees are blended with rich chocolate, caramel, or vanilla for the perfect afternoon pick-me-up.

Pieces of Paradise

Bring a Taste of Paradise home!
Frequently asked questions