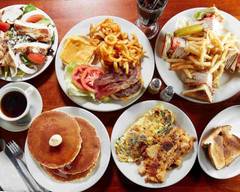 Location and hours
5050 Norton Healthcare Blvd, Louisville, KY 40241
Every Day
7:15 AM - 1:30 PM
Picked for you

Fresh Squeezed Orange Juice

12oz bottle of our fresh squeezed orange juice

Flour Tortilla filled with Scrambled Eggs, Breakfast Sausage, Onions, Bell Peppers, Cheddar Cheese, and Tomatoes. Served with pico de gallo and one side.

Two eggs, choice of meat, bread, and one side.

"SIDES"

One Biscuit served with Jelly

Mixd greens tossed in Sherry Vinaigrette.

"LEAN PLATES"

"EGGS & SUCH"

"BIG BAD SPECIALTIES"

"FOR THE KIDS"

"SALADS"

"SANDWICHES & WRAPS"

"OMELETS"

"PANCAKES & WAFFLES"

"BISCUITS"

"BEVERAGES"

"SKILLETS"
Frequently asked questions