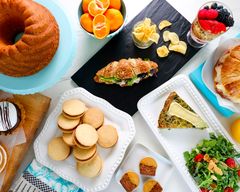 Location and hours
720 Main St, Bradley Beach, NJ 07720
Sunday
09:00 AM - 12:30 PM
Monday
08:00 AM - 01:30 PM
Tuesday
Closed
Wednesday - Saturday
08:00 AM - 01:30 PM
Bradley Cafe
Enter your address above to see fees, and delivery + pickup estimates.
Picked for you

Grilled Chicken with Salad

Appetizers (Entremeses)

Eggs

Corned Beef Hash and Two Eggs

Omelets

Sausage and Cheese Omelette

Mushroom and Cheese Omelette

Pancakes

Three Pancakes with Bacon

Three Pancakes with Sausage

Three Pancakes with Pork Roll

Three Pancakes with Two Eggs

French Toast

Three Slices with Sausage

Three Slices with Pork Roll

Three Slices with Two Eggs

Breakfast Sandwiches

Egg on a Roll with Cheese

Egg on a Roll with Sausage

Egg on a Roll with Pork Roll

Mexican Style Eggs

Scrambled Eggs, Ham, and Two slices of cheese

Tortas

Mexican Sausage with Eggs Tortas

From the Grill

Califorina Cheeseburger Deluxe

Bacon Cheeseburger Deluxe

Grilled Chicken Breast Deluxe

Sandwich Board

Grilled Cheese with Tomato

Grilled Cheese with Bacon

Grilled Swiss with Tomato

Club Sandwiches

Lunch Mexican Style

Only in Bradley

Chilaquiles with Two Eggs

Chilaquiles with Mexican Sausage

Chilaquiles with Sweet and Spiced Pork

Chilaquiles with Fried Pork

Chilaquiles with Spiced Pork

Chilaquiles with Cow Tongue

Tacos Rancheros

Alambres

Wrap

Specialties Espcialidades

Grilled Chicken with Salad

Pork Skin Cooked Mexican Style

Spiced Pork Meat Mexican Style

Slow Fried Pork Seasoned Mexican Style

Lamb Meat Slow-Cooked Mexican Style

Seasoned Cow Tongue Cooked Mexican Style

Vegetarian

Mushrooms and Cheese Quesadilla

Cheese and Bean Enchiladas

Side Orders

Toast with Butter and Jelly

A muffin with Butter and Jelly

Chid's Menu

Cheese and Beans Quesadilla

Chicken Tenders and French Fries

Grilled Cheese and French Fries

Beverages

Mexican Style Shakes

Fresh Mexican Style Cold Drinks
Allergens: These items may include unlisted ingredients and/or be prepared on equipment that processes allergens. Take precautions if you have an allergy.