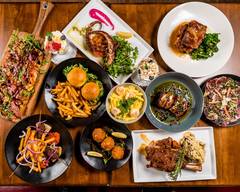 Location and hours
2034 E Price Rd, Brownsville, TX 78521
Every Day
11:30 AM - 08:00 PM
Captain Bobs Restaurant 2
Enter your address above to see fees, and delivery + pickup estimates.
$$ •
Soup
 • 
Sandwiches
 • 
Drinks
Picked for you

Appetizers

Soups

Cocktails

Stuffed Avocados

Sandwiches Po-Boy

Angus Double Hamburger Sandwich

Angus Cheeseburger & Fries Sandwich

Angus Hamburger & Fries Sandwich

Angus Double Cheeseburger Sandwich

Crab Flautas

Poultry

Served with potatoes and vegetables.

Fish Fillet

Extras

Shrimp

Boiled Shrimp with Garlic

Combo Plate Shrimp & Fish

Whole Fish

Fried, pan-broiled Veracruz style or blackened in garlic.

Seafood Entrees

Ranch Style Squid (Calamari)

Kids Menu

Fish Filet & Fries (1 pc)

Shrimp (4 pcs), Rice, & Fries

Side Orders

Soft Drinks
Allergens: These items may include unlisted ingredients and/or be prepared on equipment that processes allergens. Take precautions if you have an allergy.