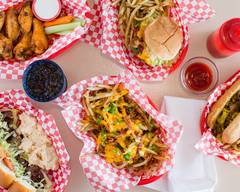 Chakra Lounge
View delivery time and booking fee.
Location and hours
Sunday
03:30 PM - 12:30 AM
Monday - Friday
05:30 PM - 12:30 AM
Saturday
03:30 PM - 12:30 AM
---
Small Plates

Crafted with curry spices, think turmeric and cumin, Kathmandu style ketchup dipping sauce, thick-cut fries, and Kathmandu take on classic American fare.

3 sliders crafted with locally sourced lamb paired with sweet potato fries and accompanied with a yogurt side dressed with spicy chili sauce.

Randomly sliced spuds with curry sauce and you choose the heat.

Tandoor charred chicken, and raita.

Roasted lamb, and mango chutney.

Charred cauliflower, fennel, turmeric, and raita.

Seasonal vegetables lightly fried, chickpea flour, mint, and tamarind chutney.

Tandoori chicken or vegetables, butter masala, chili, and fresh paneer.

Boneless Curry Fried Chicken

Lightly fried chicken with a side of specially crafted honey mustard sauce and of course. You choose the heat.
Allergens: These items may include unlisted ingredients and/or be prepared on equipment that processes allergens. Take precautions if you have an allergy.