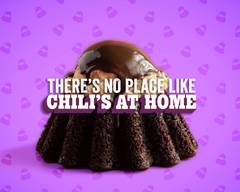 Location and hours
3494 Sports Arena Blvd, San Diego, CA 92110
Sunday - Thursday
11:00 AM - 10:00 PM
Friday - Saturday
11:00 AM - 11:00 PM
Chili's Grill & Bar (3494 Sports Arena Blvd)
4.5 (56 ratings) • American • $$
  •  
More info
3494 Sports Arena Blvd, San Diego, CA 92110
Enter your address above to see fees, and delivery + pickup estimates.
Picked for you

Pepper Pals® Cheese Pizza

Your choice of grilled chicken or shrimp with penne in Alfredo sauce, topped with chile spices, Parmesan, tomatoes, green onions. Served with garlic toast.

Appetizers

Start your meal with one of our famous appetizers you know and love, like our Southwestern Eggrolls, Skillet Queso, or Triple Dipper!

Texas Cheese Fries - Half

Texas Cheese Fries - Full

Chicken Bacon Ranch Quesadillas

Fajitas

Your choice of protein with grilled bell peppers & onions, topped with cilantro. Served with Mexican rice, black beans, sour cream, pico, salsa & shredded cheese included on the side (add 260 cal). Comes with flour tortillas. Substitute flour with corn tortillas (minus 110 cal). Guacamole served upon request (add 50 cal).

Big Mouth Burgers®

We hand-smash all our hand-crafted burgers to lock in flavor, then serve them up on a toasted brioche bun. Served with fries (add 420 cal). Beef up any of our burgers and add a patty!

Chicken Crisper® Combos

Choose your style, then your count! Our NEW juicy, tender Chicken Crispers combos are served with white cheddar mac & cheese (210 cal), fries (420 cal) and house-made ranch (170 cal).

Steaks & Ribs

Our Texas-Size Baby Back Ribs are slow cooked and smoked in house over pecan wood. Our hand-trimmed steaks are 100% USDA ribeye & choice sirloin.

Smokehouse Combos

Choose from our famous in-house Ribs smoked with pecan wood, Brisket Quesadillas, Chicken Bacon Ranch Quesadillas, Jalapeño-Cheddar Smoked Sausage or Chicken Crispers®. Served with roasted street corn, fries & garlic toast.

Chicken & Seafood

Your chicken and seafood favorites with a Tex-Mex flare. From Cajun Chicken Pasta to Margarita Grilled Chicken, we've got you covered!

Guiltless Grill

Our Guiltless Grill menu offers a range of healthier menu items that pack all the Chili's flavor while keeping the calorie count low.

Bowls & Quesadillas

Southwest inspired flavors with a Chili's twist!

Sandwiches

Hand-crafted sandwiches served with fries (add 420 cal).

Lunch Specials

We've got great lunch specials starting at just $10! Start off fresh with a salad or soup, then pick your favorite entree. Available Monday through Friday from 11 a.m. to 4 p.m. at participating locations. All lunch portions.

Salads, Soups & Chili

Pick from a variety of soup and salad options to plus up any of your lunch or dinner plans. Don't forget our world-famous chili!

Desserts

Classic desserts big enough to share, but too good to actually do it.

Sides & Sauces

For every main dish, there is a perfect side.

Kids Menu

Each Pepper Pal meal comes with your choice of entree, side item (40-240 cal) & drink (0-290 cal).

Beverages

Enjoy our house-made lemonades, teas & soft drinks.
Frequently asked questions