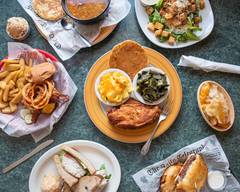 Cleaver - Butchered Meats, Seafood & Cocktails (3900 Paradise Rd)
View delivery time and booking fee.
Location and hours
Every Day
05:00 PM - 11:30 PM
---
Picked for you

9 oz filet mignon, 9 oz lobster tail, asparagus, mash, and red wine glaze.

Pork Belly Mac and Cheese

Starters

Charred onion and basil, crispy capers, Parmesan, arugula with citrus truffle dressing.

Shallots, capers, whole grain mustard, Parmesan, chives, yolk, truffle oil, and sourdough.

Avocado, togarashi, chili oil, cucumber, masago, and rice paper chips.

Black pepper aioli, Fresno peppers, garlic, cilantro, and green onion.

Hot. Spicy tomato basil broth, garlic, and white wine.

Sweet potato pancake, blackberry reduction, and creme fra che.

Asiago, tomato basil sauce, crispy crawfish, and cleaver slaw.

Prosciutto and Asparagus Flatbread

Caramelized onion jam, goat, and Munster cheese.

Salads

Basil oil, arugula, balsamic reduction, and pine nuts.

Croutons, Parmesan, cured egg, and white anchovies.

Cleaver Double Wedge Salad

Thick-cut bacon, egg, onion, cherry tomatoes, and bleu cheese crumbles. Choice of dressing.

Spinach, iceberg, tomato, cucumber, avocado, red pepper, olives, radish, salami, garbanzo bean, pepperoncini, and vinaigrette.

Cleaver Favorites

Mirepoix, potato, bone broth, and rice.

Bacon, masago, Parmesan, and egg yolk.

Mascarpone, lemon, pancetta, and peas.

Short rib, tomato pomodobo, gremolata, and pecorino.

Bone-in pork chop, black garlic bean puree, cilantro lime quinoa, and pickled onion.

Scotch herb risotto, sweet vermouth bordelaise, and cherries.

Mushroom stuffing, beurre mont bread crumbs, Parmesan, and tarragon.

Pea and mint risotto, Spanish chorizo, and preserved lemon.

Bone In

Sauces

Potatoes

Crusts and Rubs

Parmesan and Balsamic Crust

Surf and Turf

9 oz filet mignon, 9 oz lobster tail, asparagus, mash, and red wine glaze.

Seafood Platters

Lobster tail, crab legs two, tiger shrimp four, and oysters four.

Lobster tails two, crab legs four, tiger shrimp eight, and oyster eight.

Sides

Baby Portobello Mushrooms

Pork Belly Mac and Cheese

Additions

Crabmeat, bearnaise sauce, and asparagus.

Spice rub, bleu cheese crust, organic egg, thick bacon, and foie Gras.

Butters
Allergens: These items may include unlisted ingredients and/or be prepared on equipment that processes allergens. Take precautions if you have an allergy.