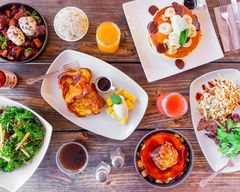 Location and hours
116 Judge John Aiso St, Los Angeles, CA 90012
Sunday
08:00 AM - 01:30 PM
Monday - Tuesday
Closed
Wednesday - Friday
07:00 AM - 01:30 PM
Saturday
08:00 AM - 01:30 PM
JiST Cafe
4.7 (36 ratings) • Breakfast and Brunch • $$
  •  
More info
116 Judge John Aiso St, Los Angeles, CA 90012
Tap for hours, info, and more
Enter your address above to see fees, and delivery + pickup estimates.
Picked for you

Eggs

With roasted cauliflower, mushrooms, Asian chives, and housemade romesco chutney.

Sweets

Guittard Chocolate Chip and Banana Pancakes

COCONUT CREAM PIE PANCAKES

layers of whipped coconut cream, fresh berries & granola
(vegan/dairy free)

Hand mixed creme fraiche pancakes soaked in 3 kinds of milk with whipped cream.

Hand mixed creme fraiche batter, with freshly whipped cream

Single Creme Fraiche Pancake

with side of pancake syrup

More Good Stuff

loaded with sliced rib eye cheese steak, roasted garlic & red
pepper aoili and 2 fried eggs

Classic ketchup fried omelet rice, with hickory ham, english peas, and demi glace sauce.

Super Huge Breakfast Burrito

With eggs, hickory ham, cheese, black beans, salsa verde, salsa roja, and breakfast potatoes.

Sides

Mixed creme fraiche batter/specialty.

With chicken skin, apple and thyme.

two slices of sourdough wheat from local bakery Friends & Family served with butter

potatoes sauteed with red bell peppers

Drinks
Frequently asked questions
What is the address of JiST Cafe in Los Angeles?
JiST Cafe is located at: 116 Judge John Aiso St , Los Angeles
Is the menu for JiST Cafe available online?
Yes, you can access the menu for JiST Cafe online on Postmates. Follow the link to see the full menu available for delivery and pickup.
What are the most popular items on the JiST Cafe menu?
The most ordered items from JiST Cafe are: Chashu Hash Skillet, The Fancy French, Fatty Maple Bacon Strip.
Does JiST Cafe offer delivery in Los Angeles?
Yes, JiST Cafe offers delivery in Los Angeles via Postmates. Enter your delivery address to see if you are within the JiST Cafe delivery radius, then place your order.
Can I get free delivery from JiST Cafe?
Delivery fees for JiST Cafe vary. Just enter your delivery address to see the delivery fee for your location. You could always get free delivery from JiST Cafe with Postmates Unlimited.
Can I pick up my order from JiST Cafe?
Postmates offers pickup from many restaurants in your city. To see if you can pick up your order from JiST Cafe, add items to your cart and look for the 'pickup' option at checkout.
Can I schedule a delivery order from JiST Cafe?
Some restaurants on Postmates allow you to schedule a delivery to show up at your location when you want it. At checkout, look for the option to select a delivery time. If it's there, that means you can schedule your delivery from JiST Cafe.