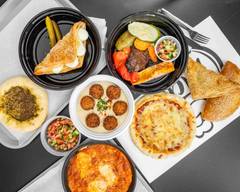 Location and hours
2005 State Highway 35, Ocean, NJ 07755
Sunday - Thursday
9:00 AM - 7:44 PM
Friday
10:00 AM - 2:30 PM
Saturday
Closed
Kitchen by Grace (New Jersey 35)
4.8 (39 ratings) • Kosher
  •  
More info
2005 State Highway 35, Ocean, NJ 07755
Tap for hours, info, and more
Enter your address above to see fees, and delivery + pickup estimates.
Picked for you

Hummus Platters

Platter served with 2 pita

Platter served with 2 pita

Platters

All Platters served with Israeli salad, olives and pickles.
Ingredients: Hummus,Fried eggplant, Hard boiled eggs, Pickle, Tahini, Amba
Served with 2 pita

Israeli Breakfast

Served with Israeli salad

Served with 3 large pancakes &maple syrup

Paninis

Eggplant with Sause & Cheese

Grilled Cheese, Tomato & Pesto

Avocado, Tomato, Red onion & Cheese

Vegan Cheese & tomato basil sause

Grilled Vegetable with Pesto

Egg Sandwiches

Sandwiches

Vegan Shawarma Sandwich

Grilled Vegetable Sandwich

Served with lettuce, tomato, pickles, tartar sauce

Salad Bar

Fish Entrees

Served with Salmon fillet, choice of side , grilled vegetables

Personal Pizza

Garden Pizza ( Vegetable)

( Mushroom & Truffle oil )

French Fries

Served with tortilla chips, black beans, jalapeno, pico de gallo, guacamole , vegan cheese.

Pastries

Beverages
Note: This merchant represents that it is Kosher. Please contact the merchant directly for confirmation.