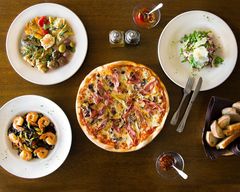 Lamplighter Restaurant
View delivery time and booking fee.
Location and hours
Sunday - Tuesday
Closed
Wednesday - Saturday
04:30 PM - 07:00 PM
---
Small Plates

Classic style. Bacon, vegetables, and little necks.

Drizzled in remoulade sauce and over spinach.

Fried calamari, olive oil, banana peppers, and kalamata olives.

Soups

Served with garlic crostini.

Salads

Chopped romaine, tomato, red onion, cucumber, walnuts, craisins, white balsamic vinaigrette, and gorgonzola cheese.

Spinach, raspberry vinaigrette, red grapes, drizzled in remoulade sauce.

Hearts of romaine, shaved parmesan, croutons, and housemade caesar dressing.

Romaine hearts, red onion, cucumber, and tomato.

Angus burger, American cheese, served over caesar salad, and caramelized onions.

Grilled romaine hearts, olive oil, kalamata olives, red onion, tomato, gorgonzola cheese, and ranch drizzle.

Sandwiches/Burgers

Half pound burger, topped with cheddar cheese, let tom and served with sweet potato fries.

Lettuce, avocado, sriracha mayonnaise, and sweet potato fries.

Grilled ribeye served over garlic toast, caramelized onions, and mozzarella cheese. Served with sweet potato fries.

Pasta

Pasta and Grilled Vegetables

Penne, spinach, portobello, onion, red peppers, white wine, and olive oil, imported cheeses.

Egg battered, with asiago layered with roasted red peppers, sauteed in lemon butter and sherry, and over escarole.

Dinner Entrees

Hazelnut Crusted Pork Tenderloin

Rolled in roasted hazelnuts crumbs, pan sauteed, served with sun-dried cherry sauce. Potato and vegetable.

Caribbean salmon, walnuts, honey, caramelized golden brown, potato, and vegetable.

Certified black Angus, potato, and vegetable.

Egg battered, sauteed in butter lemon and sherry, served over spinach.

Pan-seared and over vegetable risotto.

Certified black angus, potato, and vegetable.

Battered, pan sauteed in lemon butter, sherry sauce, and over angel hair.

Dessert
Allergens: These items may include unlisted ingredients and/or be prepared on equipment that processes allergens. Take precautions if you have an allergy.