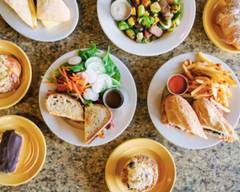 Location and hours
9571 Silverdale Way Nw,, WA 98383
Sunday
6:00 AM - 7:00 PM
Monday - Friday
5:00 AM - 7:00 PM
Saturday
6:00 AM - 7:00 PM
Liv A Latte
9571 Silverdale Way Nw,, WA 98383
Enter your address above to see fees, and delivery + pickup estimates.
Food

Comes toasted with plain cream cheese.

Chocolate Chip Cookie (Large)

Plain bagel toasted with jalapeno cream cheese.

Seed and onion flavored bagel served toasted with plain cream cheese.

Comes toasted with plain cream cheese.

Egg, cheese, ham, bacon, and sausage in a cup.

Side of Jalapeno Cream Cheese (2 oz)

Beverages

Island Dream Protein Drink (24 oz)

Only banana, coconut milk, pina colada smoothie, protein (whey or plant you must specify if you want plant-based), and toasted coconut shreds.

Comes with sugar and cream included flavors white chocolate is extra must specify.

Comes with two shots flavor is extra sugar is included 2 percent milk must specify.

Comes with 2 percent milk and whip included must specify.

Frappes with coffee this size come with regular milk and whip. Your choice of caramel, mocha, white mocha, SF mocha, vanilla chai, spiced chai, SF vanilla chai, coffee, green tea, mexi mocha, Kona mocha, frozen cocoa, vanilla, cookies n cream, SF vanilla, and the unicorn frappe ( cotton candy).

Strawberry Cheesecake 1x Redbull (24 oz)

Single Redbull with strawberry cheesecake flavoring served with cream. Not available sugar-free.

Superman Protein Drink (24 oz)

Blended protein drink banana peanut butter protein milk ice chocolate.

PB&J Protein Smoothie (24 oz)

Peanut butter protein smoothie with no added dairy (whey protein).

Lotus Energy Drink (20 oz)

Pick a flavor pick a lotus.