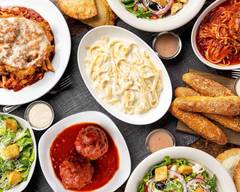 Location and hours
408 Market Street, Chattanooga, TN 37402
Sunday
11:00 AM - 11:00 PM
Dinner
Monday - Friday
3:00 PM - 11:00 PM
Dinner
11:00 AM - 3:00 PM
Lunch
Saturday
11:00 AM - 11:00 PM
Dinner
Picked for you

Appetizers & Sides

Start your meal with our chef-chosen favorite appetizers, or choose a side to complement any entrée.

Salads

Choose from two salads that are perfect to enjoy before your entrée or as a side.

Pastas & Entrées

Enjoy our chef-selected Italian Classics and truly taste what we call the "Maggiano's Way."

Kids Meals

Classic favorites your little ones are sure to love.

Drinks

Choose from our selection of refreshing Coca-Cola® products, Dr Pepper® or Unsweet Tea.
Frequently asked questions