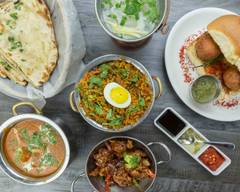 Location and hours
4868 Telegraph Ave, Oakland, CA 94609-2010
Sunday - Monday
11:30 AM - 2:30 PM
Menu
4:30 PM - 9:30 PM
Menu
Tuesday
Closed
Wednesday - Saturday
11:30 AM - 2:30 PM
Menu
4:30 PM - 9:30 PM
Menu
Marigold Indian Eats
Enter your address above to see fees, and delivery + pickup estimates.
Picked for you

Starters

Spicy Onion Rings

Onion rings and chickpea flour.

Shammi Kabab (2 pcs)

Tandoori Bites

Marinated and grilled in the tandoor oven.

Papadum

Pakora

Mixed vegetable fritters and chickpea batter.

Vegetables

Mixed Vegetable Masala

Mixed vegetables, onions, tomatoes, ginger, and spices.

Aloo Gobi

Cauliflower, potatoes, tomatoes, and spices.

Grill (Tandoori Oven Items)

Assorted pieces of tandoori chicken, boti kabab, tandoori prawns, and tandoori fish.

Tandoori Chicken

Chicken marinated in a mildly spiced yogurt blend, cooked in our clay oven (tandoor).

Curries

Chili

Items cooked in a spicy chili sauce.

Korma

Items cooked in a rich, cashew cream sauce.

Madras

Items cooked in a spicy, coconut sauce.

Karahi

Bell peppers and onions sautéed in a tomato-onion sauce.

Curry

Items cooked in our onion-tomato sauce.

Rice

Breads

Deep fried puffy white bread.

Puffy fried whole wheat bread.

Sides

Raita

Yogurt, cucumbers, carrots, and spices. .

Achar

Mixed pickle - green mangoes, lemon, lotus root, and green chilies.

Mangoes, tangy, and sweet mix.

Beverages (Non-alcoholic)

Yogurt blended with spices.

Indian black tea with milk. Sweetened. Blended with ice.

Indian black tea with milk. Sweetened.

Desserts

Gulab Jamun (2 pcs)

Milk dumplings in a cardamom-sugar syrup.

Kheer

Indian rice pudding with cardamom. .