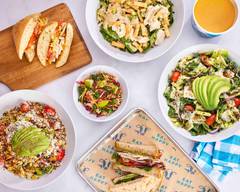 Location and hours
401 San Antonio Road, 64, Mountain View, CA 94040
Every Day
10:45 AM - 9:00 PM
Mendocino Farms (Mountain View)
4.9 (100+ ratings) • Salads • $
  •  
More info
401 San Antonio Road, 64, Mountain View, CA 94040
Delivery • Pickup
Opens at 10:45 AM
Picked for you

Avocado & Quinoa Superfood Ensalada

The Impossible Taco Salad

Sweet Heat Crispy Thai Chicken

Mama Chen's Chinese Chicken Salad

CHEF'S CREATIONS

SANDWICHES

"Not So Fried" Chicken Sandwich

Sweet Heat Crispy Thai Chicken

Chimichurri Steak & Bacon

Mendo's Original Pork Belly Banh Mi

SALADS

In order to keep your salad fresh, all dressings will be provided on the side.


1/2 SANDWICH COMBOS

Half sandwich paired with a deli side or cup of soup

KID'S MENU

Served with a beverage & choice of side (organic milk +$2.25)


DELI SIDES & SOUPS

COOKIES

BEVERAGES

CHIPS

UTENSILS

In an effort to be green, we will only provide utensils when requested. So if you would like utensils included with your order, please add this item to your cart!