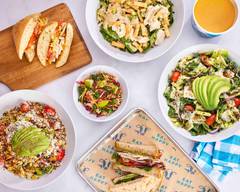 Location and hours
10720 Preston Road, Dallas, TX 75230
Every Day
10:45 AM - 8:30 PM
Mendocino Farms (Preston Hollow)
10720 Preston Road, Dallas, TX 75230
Delivery
Opens at 10:45 AM
"Not So Fried" Chicken Sandwich

Mama Chen's Chinese Chicken Salad

Avocado & Quinoa Superfood Ensalada

Prosciutto & Chicken Sandwich

Chimichurri Steak & Bacon

Pink Lady Beets & Goat Cheese Salad

Sweet Heat Crispy Thai Chicken

Roasted Tomato-Basil Soup

The Impossible Taco Salad

"Not So Fried" Chicken Sandwich - Salad Style!

Mediterranean Crunch Salad

SALADS

In order to keep your salad fresh, all dressings will be provided on the side.

1/2 SANDWICH COMBOS

Half sandwich paired with a deli side or cup of soup

KID'S MENU

Served with a beverage & choice of side

UTENSILS

In an effort to be green, we will only provide utensils when requested. So if you would like utensils included with your order, please add this item to your cart!