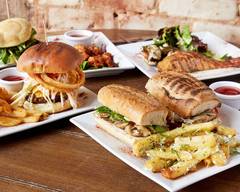 O'Doherty's Irish Grille
View delivery time and booking fee.
Location and hours
Sunday - Monday
12:00 PM - 08:00 PM
Tuesday - Thursday
12:00 PM - 09:00 PM
Friday - Saturday
12:00 PM - 10:00 PM
---
Starters

Grilled slices of our Irish style sausages served with baby carrots and a BBQ Ranch for dipping.

Four golden fried chicken tenders served with Ranch and O'Doherty's fries.

A full pound of steamer clams steeped in white wine, butter, and garlic.

Two hard-boiled eggs wrapped in mild sausage and deep-fried. Served with Dijon mustard.

Meaty, bone-in wings tossed in our spicy hot sauce and served with celery, carrots, and your choice of ranch or bleu cheese.

Freshly baked soft pretzel served with beer cheese and sweet hot mustard.

The Great Green Quesadilla

Grilled chicken breast and cheddar cheese melted in a spinach tortilla served with mild, Irish sissy boy, salsa, and sour cream.

Megan's Mozzarella Sticks

Fresh cut mozzarella, hand-dipped! A family favorite, even if they aren't Irish! Served with marinara sauce.

Each onion is handpicked by Irish children, in the fields of Walla Walla. Served with tartar sauce.

1 pound of premium steak fries, with our special spices.

Our famous fries are topped with melted cheddar cheese and bacon.

Onion Rings, mozzarella sticks, chicken dippers, and Steak fries. Served with ranch marinara and tarter.

8 oz. steak, grilled and sliced, served with celery, ranch dressing, and Sheppard's bread.

Traditional Pub Fare

Alaskan Pollock fillet, dipped in our Guinness beer-batter, deep-fried, and served with our famous O'Doherty's fries and tater sauce.

Ground beef, garden peas, and onions in a seasoned brown gravy and topped with creamy mashed potatoes and cheese.

House-made and served on white cheddar mashed potatoes, ladled with brown gravy, and seasonal vegetables.

Baked Atlantic Salmon filet, basted in lemon-garlic butter. Served with white cheddar mashed potatoes, gravy, and seasonal vegetables.

A generous portion of slow-cooked, fork-tender, glazed lamb shank served on a bed of Colcannon potatoes.

Tullamore Dew Whiskey Steak

Cooked to order steak smothered in sauteed mushrooms and Irish whisky gravy. Served with white cheddar mashed potatoes gravy, and seasonal vegetables.

Same a great whiskey glaze and sauteed mushrooms over a grilled chicken breast. Served with white cheddar mashed potatoes gravy, and seasonal vegetables.

Our tender, slow-cooked corned beef and cabbage served with white cheddar gravy mashed potatoes, and seasonal vegetables.

Traditional pork sausage boiled in Guinness and then grilled. Served atop a pile of mashed potatoes with a side of traditional HP sauce.

This is Montana's answer to feeding those hungry Irish miners. beef, potatoes, onions, and carrots baked in a flaky pie crust and topped with a hearty gravy.

A full Irish meal! A steaming bowl full of our hearty beef and sausage stew served with a slice of warm rustic bread.

Salads

Fresh Washington apple slices, and grilled chicken tossed in Italian dressing. Topped with almonds and blue cheese crumbles.

Crispy Chicken Ranch Salad

Tossed salad greens topped with crispy seasoned chicken strips, fresh tomatoes, and onions. Served with a BBQ ranch dressing.

Seasoned Salmon filet, grill blackened, and served with tomatoes, and onions on fresh romaine lettuce with your choice of dressing.

Hearts of Romaine lettuce, tossed in a garlicky Caesar dressing with croutons and topped with parmesan cheese and fresh tomatoes.

Seasoned and grilled 8oz sirloin, fresh romaine, onions, and mushrooms, and tossed in Italian dressing and topped with blue cheese crumbles.

Desserts

Our decadent housemade chocolate torte served on a raspberry compote.
Allergens: These items may include unlisted ingredients and/or be prepared on equipment that processes allergens. Take precautions if you have an allergy.