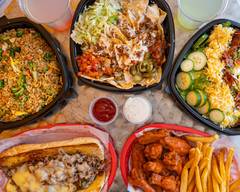 Shooters Waterfront
View delivery time and booking fee.
Location and hours
Sunday
10:00 AM - 03:30 PM
Brunch
04:00 PM - 10:00 PM
Dinner
Monday - Friday
11:00 AM - 04:00 PM
Lunch
04:00 PM - 10:00 PM
Dinner
Saturday
10:00 AM - 03:30 PM
Brunch
04:00 PM - 10:00 PM
Dinner
---
Starters

Guava-Chili Chicken Wings

Guava-chili glaze, carrot sticks

Jumbo Shrimp, Cocktail sauce GF

Artisanal cheeses, honeycomb, grapes, berries, crackers

Carrot and celery sticks, lavash strips

Grilled Lollipop Lamb Chops

Mint chimichurri, goat cheese crumbles

Guacamole & Taro Root Chips

Avocado, ginger, garlic, sesame soy sauce, crispy taro root chips

Salads

Romaine lettuce, hard-boiled eggs, avocado, bacon, tomatoes, cheddar cheese, ranch dressing, GF

Broiled Maine lobster, corn, celery, red onion, basil, parsley, lemon, bibb lettuce gluten free

Crispy tempura jumbo shrimp tossed in schezwan sauce, cabbage, mixed greens, onions, red peppers, cucumbers, carrots, cashews, wontons, sesame dressing

Baby kale, spinach, watercress, goat cheese, watermelon radish, crisp peas, pistachios.

Jumbo lump crab, avocado, tomato relish, mandarin oranges, bibb lettuce

Seared rare, field greens, mango, cucumbers, peppers, avocado, onions, toasted sesame ginger dressing, crispy wontons

Flatbreads

Mozzarella, roasted tomatoes, avocado, arugula, aged balsamic

Mozzarella, glazed onions, roasted red peppers, pesto cream

Mozzarella, heirloom tomatoes, caramelized onions, basil

Pepperoni, bacon, steak, sausage, mornay sauce, mozzarella, feta

Sushi Rolls

Tuna, avocado, romaine, cucumber, spicy mayo

Kani, cucumber, avocado, masago

Shrimp tempura, cream cheese, avocado, jalapeno, hibachi sauce

Shrimp tempura, avocado, cucumbers, topped w/ baked lump crab

Shrimp tempura, tuna, avocado, cream cheese, wakame salad, chili oil, tempura flakes

Roasted red & gold beets, avocado, carrots, asparagus, sesame seared tofu, gazpacho, togaras

Lunch Entrees

Cajun Shrimp Fettuccine Pasta

Blackened shrimp fettuccine pasta, mornay sauce, onions, parmesan cheese

Tangy slaw, pickled radish, lime crema, elotes

Grilled Soy-Ginger Glazed Salmon

Saffron quinoa, kale ribbons

Multigrain toast, avocado, EVOO, baby arugula, onions, kalamata olives, tomatoes, feta cheese, cucumbers, lemon-dijon vinaigrette

Grilled ribeye, two eggs, breakfast potatoes

Chicken Linguini & Roasted Butter Nut Squash

Basil, sun-dried tomatoes, arugula, lemon fennel coulis

Cajun Chicken Fettuccine Pasta

Blackened chicken, mornay sauce, onions, parmesan cheese.

Kids Menu

Kids Crispy Chicken Tenders & Fries

Kids Coconut Shrimp & Fries

Kids Grilled Chicken Fingers & Fries

Kids Grilled Cheese & Fries

Sandwiches

Shooters Waterfront Cheeseburger

Certified Angus beef, cheddar, signature sauce, lettuce, tomatoes, onion, brioche bun, shoestring fries

Broiled Maine lobster salad, toasted butter potato roll, shoestring fries

Slow roasted prime rib, provolone, horseradish crème, au jus, french baguette, shoestring fries

Whole wheat wrap, avocado,applewood bacon, cucumbers, alfalfa sprouts,sun-dried tomato ranch, shoestring fries

Grilled or blackened, lettuce, tomatoes, onion, rémoulade, brioche bun, shoestring fries

Mojo pulled pork,black forest ham, swiss cheese , pickles, mayo-mustard, shoestring fries

Lentils, quinoa, flax seed, oats, black beans, carrots, portobello mushroom, french fries

Sides
Allergens: These items may include unlisted ingredients and/or be prepared on equipment that processes allergens. Take precautions if you have an allergy.
Flatbreads

Mozzarella, roasted tomatoes, avocado, arugula, aged balsamic

Mozzarella, glazed onions, roasted red peppers, pesto cream

Mozzarella, heirloom tomatoes, caramelized onions, basil

Pepperoni, bacon, steak, sausage, mornay sauce, mozzarella, feta

Salads

Romaine lettuce, hard-boiled eggs, avocado, bacon, tomatoes, cheddar cheese, ranch dressing, GF

Broiled Maine lobster, corn, celery, red onion, basil, parsley, lemon, bibb lettuce gluten free

Crispy tempura jumbo shrimp tossed in schezwan sauce, cabbage, mixed greens, onions, red peppers, cucumbers, carrots, cashews, wontons, sesame dressing

Baby kale, spinach, watercress, goat cheese, watermelon radish, crisp peas, pistachios.

Jumbo lump crab, avocado, tomato relish, mandarin oranges, bibb lettuce

Seared rare, field greens, mango, cucumbers, peppers, avocado, onions, toasted sesame ginger dressing, crispy wontons

Kids Menu

Kids Crispy Chicken Tenders & Fries

Kids Coconut Shrimp & Fries

Kids Grilled Chicken Fingers & Fries

Kids Grilled Cheese & Fries

Sushi Rolls

Tuna, avocado, romaine, cucumber, spicy mayo

Kani, cucumber, avocado, masago

Shrimp tempura, cream cheese, avocado, jalapeno, hibachi sauce

Shrimp tempura, avocado, cucumbers, topped w/ baked lump crab

Shrimp tempura, tuna, avocado, cream cheese, wakame salad, chili oil, tempura flakes

Roasted red & gold beets, avocado, carrots, asparagus, sesame seared tofu, gazpacho, togaras

Starters

Guava-Chili Chicken Wings

Guava-chili glaze, carrot sticks

Jumbo Shrimp, Cocktail sauce GF

Artisanal cheeses, honeycomb, grapes, berries, crackers

Carrot and celery sticks, lavash strips

Grilled Lollipop Lamb Chops

Mint chimichurri, goat cheese crumbles

Guacamole & Taro Root Chips

Avocado, ginger, garlic, sesame soy sauce, crispy taro root chips

Sides

Brunch Sandwiches & Entrees

New Orleans style flash fried, french baguette, lettuce, tomatoes, spicy remoulade , french fries

Apple Brie Chicken Sandwich

Tandoori bread, chicken breast, brie cheese, spinach, green apple, balsamic glaze, french fries

Slow roasted prime rib, provolone, horseradish crème, au jus, french baguette, french fries

Wheat wrap, sun-dried tomatoes, bibb lettuce, cucumbers, apples, alfalfa sprouts, carrots, hummus , french fries

Shooters Waterfront Cheeseburger

Certified Angus beef, cheddar, signature sauce, lettuce, tomatoes, onion, brioche bun, shoestring fries

Grilled or blackened, lettuce, tomatoes, onion, rémoulade, brioche bun, shoestring fries

Broiled Maine lobster salad, toasted butter potato roll, shoestring fries

Tangy slaw, pickled radish, lime crema, elotes

Brunch

Jumbo lump crab, tomatoes, arugula, béarnaise sauce

Maple cinnamon sugar, caramel sauce, strawberries & blueberries

Virginia ham, red & green peppers, onion, cheddar cheese

Canadian bacon, poached eggs, English muffin, hollandaise sauce

Maine lobster, avocado, béarnaise sauce

Grilled ribeye, two eggs, breakfast potatoes

Lump crab, shrimp, avocado, herb cream cheese

Power House Egg White Omelet

Spinach, feta, tomato, cheddar

Chorizo, black beans, potato hash, two fried eggs, cheese empanadas

Six homemade cinnamon rolls, sweet cream cheese icing

Multigrain toast, avocado, EVOO, baby arugula, onions, kalamata olives, tomatoes, feta cheese, cucumbers, lemon-dijon vinaigrette
Flatbreads

Mozzarella, roasted tomatoes, avocado, arugula, aged balsamic

Mozzarella, glazed onions, roasted red peppers, pesto cream

Mozzarella, heirloom tomatoes, caramelized onions, basil

Pepperoni, bacon, steak, sausage, mornay sauce, mozzarella, feta

Salads

Romaine lettuce, hard-boiled eggs, avocado, bacon, tomatoes, cheddar cheese, ranch dressing, GF

Broiled Maine lobster, corn, celery, red onion, basil, parsley, lemon, bibb lettuce gluten free

Crispy tempura jumbo shrimp tossed in schezwan sauce, cabbage, mixed greens, onions, red peppers, cucumbers, carrots, cashews, wontons, sesame dressing

Baby kale, spinach, watercress, goat cheese, watermelon radish, crisp peas, pistachios.

Jumbo lump crab, avocado, tomato relish, mandarin oranges, bibb lettuce

Seared rare, field greens, mango, cucumbers, peppers, avocado, onions, toasted sesame ginger dressing, crispy wontons

Kids Menu

Kids Crispy Chicken Tenders & Fries

Kids Coconut Shrimp & Fries

Kids Grilled Chicken Fingers & Fries

Kids Grilled Cheese & Fries

Sushi Rolls

Tuna, avocado, romaine, cucumber, spicy mayo

Kani, cucumber, avocado, masago

Shrimp tempura, cream cheese, avocado, jalapeno, hibachi sauce

Shrimp tempura, avocado, cucumbers, topped w/ baked lump crab

Shrimp tempura, tuna, avocado, cream cheese, wakame salad, chili oil, tempura flakes

Roasted red & gold beets, avocado, carrots, asparagus, sesame seared tofu, gazpacho, togaras

Starters

Guava-Chili Chicken Wings

Guava-chili glaze, carrot sticks

Jumbo Shrimp, Cocktail sauce GF

Artisanal cheeses, honeycomb, grapes, berries, crackers

Carrot and celery sticks, lavash strips

Grilled Lollipop Lamb Chops

Mint chimichurri, goat cheese crumbles

Guacamole & Taro Root Chips

Avocado, ginger, garlic, sesame soy sauce, crispy taro root chips

Sides

Dinner Entrees

Shooters Waterfront Cheeseburger

Certified Angus beef, cheddar, signature sauce, lettuce, tomatoes, onion, brioche bun, shoestring fries

Grilled or blackened, lettuce, tomatoes, onion, rémoulade, brioche bun, shoestring fries

Lentils, quinoa, flax seed, oats, black beans, carrots, portobello mushroom, french fries

Grilled broccoli, roasted baby peppers, sautéed portabello mushrooms, spinach, heirloom tomatoes, saffron quinoa Vegan & Gluten Free

Tangy slaw, pickled radish, lime crema, elotes

Shrimp, mussels, littleneck clams, chicken, chorizo, peas, roasted peppers, saffron rice

Whole rack of dry rubbed ribs smothered in BBQ sauce, southern fried potato salad

Seasoned roasted potatoes, maitre d'butter, onion strings Gluten Free

10 ounce center cut filet, lyonnaise potatoes, asparagus, port demi glace Gluten Free

Smoked Chipotle Meco BBQ Grilled Skirt Steak

Sambal mango chili slaw, yucca steak fries Gluten Free

Roasted Rosemary Lemon Chicken

Roasted ½ chicken, brined and marinated for 36 hours, savory carrots, potatoes Gluten Free

Seared Brown Butter Scallops & Shrimp

Corn risotto, asparagus, citrus beurre blanc Gluten Free

Sticky rice, red Thai coconut curry sauce Gluten Free

Grilled Swordfish Steak & Popcorn Cajun Shrimp

Edamame roasted corn relish, lobster bisque

Grilled Soy-Ginger Glazed Salmon

Saffron quinoa, kale ribbons

Rock shrimp, bay scallops, PEI mussels, jumbo lump crab, alfredo sauce, parmesan cheese, toasted goat cheese bread crumbs

Cajun Shrimp Fettuccine Pasta

Blackened shrimp, mornay sauce, onions, parmesan cheese

Broiled Maine lobster salad, toasted butter potato roll, shoestring fries