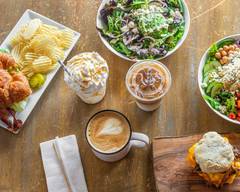 Location and hours
1943 U.S. 9 Bldg 4, Cape May Court House, NJ 8210
Every Day
08:00 AM - 04:00 PM
Too far to deliver
Studibagels Garden Cafe
1943 U.S. 9 Bldg 4, Cape May Court House, NJ 8210
Enter your address above to see fees, and delivery + pickup estimates.
Breakfast

Bagel with Flavoured Cream Cheese

$2.95

Sandwiches

$5.95

Spicy mustard and coice of bagel.

Beverages

Lunch Sandwiches

$8.95

Corned beef, cole slaw, and russian dressing.

$8.95

Roast beef with creamy hiorseradish sauce.

$8.95

Honey baked ham, swiss cheese, dijon mustard, and tomato.

$8.95

Slice taylorpork roll (3 pcs), on a bagel or bun, and coleslaw.

$4.95

Spring mix, tomato, and strawberries.

$2.95

All beef hot dog with fixings mustard, ketchup, and onions.

$7.95

Black bean and veggie burger with all the fixin's on brioche bun or bagel.
Allergens: These items may include unlisted ingredients and/or be prepared on equipment that processes allergens. Take precautions if you have an allergy.