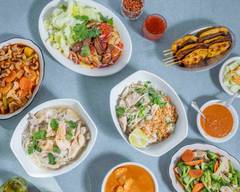 Location and hours
318 S Milwaukee Ave, Libertyville, IL 60048
Sunday
Closed
Monday - Thursday
10:30 AM - 08:30 PM
Friday
10:30 AM - 09:30 PM
Saturday
11:30 AM - 09:30 PM
Thai Noodles Cafe
4.6 (105 ratings) • Thai
  •  
More info
318 S Milwaukee Ave, Libertyville, IL 60048
Tap for hours, address, and more
Enter your address above to see fees, and delivery + pickup estimates.
Picked for you

Appetizers

1. Crispy Eggrolls (2 pcs)

8a. Thai Basil Springrolls (2)

8d. Shrimps in a Blanket (8)

4. TOD MUN PLA (Fish Cakes)

Soups

15. Miso Soup (Individual Serving)

Salads

18. Nam Sode (Chicken Salad)

Noodles in Bowls

N3. Bamee Tom Yum w. BBQ Pork

Noodle Soups

NS5. Woon Sen Tom Yum Soup

NS8. Roasted Duck Noodle Soup

Noodles Entrées

K31. Pad Khee Mao (Drunken Noodles)

P30. Peanut Sauce Over Wide Noodles

Rice Entrées

26. Thai Spicy Fried Rice

Spicy

Meat Entrées

34. Basil Leaves w. choice of Meat

Spicy

Thai Curries

55. Yellow Curry (Curry Kai)

Chef's Specials

B27. Roast Duck Over Rice

G34. Spicy Basil Leaves w. Ground Chicken

Spicy

44. Combo Veggies & Pineapples

56. Shrimp Curry w. Pineapple

Side Orders

Steamed Sliced Chicken (White Meat)

Beverages

Desserts
Frequently asked questions
What is the address of Thai Noodles Cafe in Libertyville?
Thai Noodles Cafe is located at: 318 S Milwaukee Ave, Libertyville, IL 60048, USA , Libertyville
Is the menu for Thai Noodles Cafe available online?
Yes, you can access the menu for Thai Noodles Cafe online on Postmates. Follow the link to see the full menu available for delivery and pickup.
What are the most popular items on the Thai Noodles Cafe menu?
The most ordered items from Thai Noodles Cafe are: 8e. Pot Stickers (6), 28. Pad Thai, 53. Pa-Nang Curry.
Does Thai Noodles Cafe offer delivery in Libertyville?
Yes, Thai Noodles Cafe offers delivery in Libertyville via Postmates. Enter your delivery address to see if you are within the Thai Noodles Cafe delivery radius, then place your order.
Can I get free delivery from Thai Noodles Cafe?
Delivery fees for Thai Noodles Cafe vary. Just enter your delivery address to see the delivery fee for your location. You could always get free delivery from Thai Noodles Cafe with Postmates Unlimited.
Can I pick up my order from Thai Noodles Cafe?
Postmates offers pickup from many restaurants in your city. To see if you can pick up your order from Thai Noodles Cafe, add items to your cart and look for the 'pickup' option at checkout.
Can I schedule a delivery order from Thai Noodles Cafe?
Some restaurants on Postmates allow you to schedule a delivery to show up at your location when you want it. At checkout, look for the option to select a delivery time. If it's there, that means you can schedule your delivery from Thai Noodles Cafe.