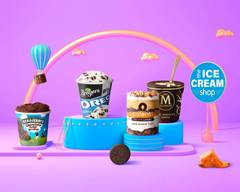 The Ice Cream Shop
View delivery time and booking fee.
Location and hours
Every Day
08:00 AM - 10:30 PM
---
Bundles

Ben & Jerry's

Ben and Jerry's Mint Chocolate Cookie

A perky peppermint ice cream with plentiful chunks of chocolate sandwich cookies. 16oz

Chocolate ice cream with gooey marshmallow swirls & caramel swirls & fudge fish. 16 oz.

Breyers

Our Original Vanilla Ice Cream in a pint. The way vanilla should taste! 16 oz.

Breyers vanilla and heaps of Oreo® cookies? Yes please! 16 oz.

Talenti

Talenti Mediterranean Mint Gelato

Fresh mint leaves are steeped in fresh milk, cream, and sugar to create a smooth mint gelato before mixing in semisweet chocolate chips. 16 oz.