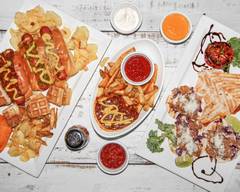 Location and hours
Route 28, Yarmouth, MA 02673
Every Day
6:00 PM - 11:00 PM
The Music Room

Pulled Pork Tacos (3 pcs)

A tantalizing salad stacked with tomato, basil, and mozzarella topped with salt, pepper, olive oil, and balsamic vinegar glaze.

An authentic delectable quesadilla customized with your choice of ingredients, cheese only, cheese, jalapeño, cheese, pulled pork, ham, cheese, BBQ chicken, cheese, crispy chicken, and cheese or chili and cheese

The Music Room Signature Rock Dogs

It ain't nothin' but a steamed dog covered with sauerkraut, infusion of balsamic vinegar with German mustard on a warm steamed bun with a side of salted chips.

Custom make your delicious hot dog with any combination of toppings including sauerkraut, mustard, ketchup, relish, hot sauce, cheese, or chili.

Smothered with gourmet mustard and pickled relish served on a hot steamed bun with a side of salted chips.

Served on a bed of chili con carne and topped with chipotle mustard this dog comes with both hot and chili sauces and served with a side of salted chips.
Frequently asked questions