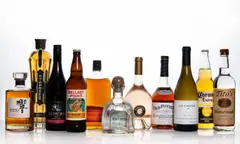 Two Stars Market (2020 MacArthur Blvd)
4.8
(96)
  •  
View delivery time and booking fee.
Location and hours
Sunday
12:00 AM - 01:00 AM
Menu
08:30 AM - 11:59 PM
Menu
Monday
12:00 AM - 01:00 AM
Menu
09:30 AM - 11:59 PM
Menu
Tuesday - Saturday
12:00 AM - 01:00 AM
Menu
08:30 AM - 11:59 PM
Menu
---
Picked for you

Distilled five times for a smooth and pure flavor with a sweet finish.

Barefoot California Chardonnay

Reminiscent of warm summer nights and crisp fall days, Barefoot's chardonnay is an affordable option for indulging in sweet peach and apple flavors.

Imported from Sweden and distilled five times from winter wheat.

Timeless whiskey with a floral fragrance and sweet peppery wood notes.

Andre Extra Dry California Champagne

Counterintuitively, this champagne is only semi-dry—not as dry as a brut—but its sparkly texture and pear and apple hints are killer.

BBQ: Smoakring BBQ

Angus beef Brisket slow smoaked over mequite and Oak wood. Served butter soft on a toasted Challa bun with condiments on the side. Onion, pickle, Smoakring BBQ sauce and Smoakring chimmi churri

1/2 lb Angus beef Brisket slow smoaked over mequite and Oak wood. Served with Lindas potato salad and homemade Tia roll

The original Big Ju recipe. 5 sweet, spicy St. Louis spare ribs slow smoaked to perfection and deliciously glazed. Served with Lindas potato salad and homemade Tia roll

Bay Area Backyard BBQ wings

4 charcoal BBQ wings basted with Smoakring BBQ sauce. Served with Lindas potato salad and homemade Tia roll.

Housemade hot or mild beef link sandwich

100% Ground Angus brisket sausage link smoaked over mequite and Oak. Served on a Challa bun with condiments on the side. Onions, pickles, Smoakring BBQ sauce, Smoakring chimmi churri

Hard Seltzers

White Claws Variety Pack 12 pack

Available Stock: Mango, Berry, Black Cherry, and Grapefruit

Essentials / Soft Drinks

San Pellegrino Pompelmo Sparkling Grapefruit Beverage

San Pellegrino Aranciata Rossa Sparkling Blood Orange Beverage

Crystal Geyser Sparkling Lemon Spring Water

La Croix Sparkling Water Cran-Raspberry

La Croix Sparkling Water Pure

San Pellegrino Ficodindia E Arancia Sparkling Prickly Pear & Orange Beverage

San Pellegrino Aranciata Sparkling Orange Beverage

La Croix Sparkling Water Grapefruit

La Croix Sparkling Water Coconut

La Croix Sparkling Water Berry

La Croix Sparkling Water Mango

La Croix Sparkling Water Passionfruit

Crystal Geyser Natural Alpine Spring Water

San Pellegrino Melograno E Arancia Sparkling Pomegranate & Orange Beverage

San Pellegrino Limonata Sparkling Lemon Beverage

Smart Water Bottled Water

Reed's Premium Ginger Brew

Fever-Tree Premium Ginger Beer

Fever-Tree Premium Indian Tonic Water

Fever-Tree Premium Club Soda

Fever-Tree Elderflower Tonic Water

Reed's Original Ginger Brew

Simply Raspberry Lemonade

Crystal Geyser Sparkling Mineral Water

San Pellegrino Sparkling Natural Mineral Water

Perrier Sparkling Natural Mineral Water

Simply Cranberry Cocktail

Zico Premium Coconut Water

Vita Coco Pure Coconut Water

Starbucks Low Calorie Iced Coffee and Milk

Starbucks Iced Coffee and Milk

Starbucks Frappuccino Coffee Flavor

Ocean Spray Cranberry Juice Cocktail

Martinelli's Sparkling Cider

Guayaki Yerba Mate Sparkling Grapefruit Ginger

GT's Enlightened Kombucha Gingerade

Guayaki Yerba Mate Sparkling Cranberry Pomegranate

Guayaki Yerba Mate Revel Berry Organic

Guayaki Yerba Mate Organic Bluephoria

Guayaki Yerba Mate Lemon Elation

Guayaki Yerba Mate Enlighten Mint

Sunny Farms Grapefruit Juice

Starbucks Mocha Doubleshot Energy

Essentials / Mixers

Starr Pimiento Stuffed Green Olives

Starr Maraschino Cherries with Stems

Jose Cuervo Margarita Mix

Mr and Mrs T Bloody Mary Mix

Rose's Sweetened Lime Juice

Summery lime sweetness in an irresistible syrup.

Rich pomegranate sweetness in a velvety syrup.

Dr. Swami & Bone Daddy's Sweet & Sour Mix

Dr. Swami & Bone Daddy's Bloody Mary Mix

Angostura Aromatic Bitters

A palate-cleansing combination of herbs, fruits and spices perfect for counteracting the harshness of spirits and acids alike.

Essentials / Snacks

ACT II Butter Lovers Popcorn

Act II Movie Theater Butter Microwave Popcorn

Act II Light Butter Microwave Popcorn

Wonderful Roasted & Salted Pistachios

Red Vines Original Red Twists

Reese's Peanut Butter Cups

Wrigley's Extra Peppermint

Toblerone Swiss Milk Chocolate

Hershey's 5th Avenue Candy Bar

Nestle Milk Chocolate Raisinets

Kettle Chips Salt and Vinegar

Pop Secret Buttered Popcorn

Clif Bar Chocolate Chip Energy Bar

Kinder Bueno Milk Chocolate Bar

Cheetos Fries Flamin' Hot Corn & Potato Snacks

Chester's Flamin' Hot Popcorn

Pringles White Cheddar & Black Pepper Potato Crisps

Pringles Sour Cream & Onion Flavored Potato Crisps

Ice Breakers Wintergreen Sugar Free Mints

Tostitos Medium Nacho Cheese Dip

Pringles Jalapeño Potato Crisps

Pringles Chile y Limon Potato Crisps

Pringles Cheddar Cheese Flavour Potato Chips

Haribo Peaches Gummi Candy

Chips Ahoy! Original Chocolate Chip Cookies

Pepperidge Farm Milano Double Dark Chocolate Cookies

Pepperidge Farm Milano Milk Chocolate Cookies

Nabisco Original Premium Saltine Crackers

Keebler Original Club Crackers

Premium Original Saltine Crackers

Fritos Bean Original Flavor Dip

Fritos Brand Hot Bean Dip with Jalapeno Peppers

Cheetos Crunchy Flaming Hot

Tostitos Medium Salsa Con Queso

Tostitos Brand Smooth & Cheesy Dip

Tostitos Medium Chunky Salsa

Tostitos Brand Hot Chunky Salsa

Tostitos Brand Medium Restaurant Style Salsa

Tostitos Brand Zesty Taco Dip

Gallo Salame Provolone Cheese & Italian Dry Salame Snack Pack

Ruffles Sour Cream & Onion Potato Chips

Ruffles Original Potato Chips

Jack Link's Original Beef Jerky

Essentials / Frozen

Klondike Chocolate Choco Taco Ice Cream

Klondike Oreo Ice Cream Bars

Klondike Original Ice Cream Bars

Its-It Mint Ice Cream Sandwich

Its-It Chocolate Ice Cream Sandwich

Its-It Cappuccino Ice Cream Sandwich

Its-It Vanilla Ice Cream Sandwich

Magnum Almond Ice Cream Bar

Ben & Jerry's Vanilla Caramel Fudge

Ben & Jerry's Urban Bourbon

Ben & Jerry's Triple Caramel Chunk

Ben & Jerry's The Tonight Dough

Ben & Jerry's Strawberry Shortcake

Ben & Jerry's Salted Caramel Core

Ben & Jerry's Raspberry Fudge Chunk Greek

Ben & Jerry's Pumpkin Cheesecake

Ben & Jerry's Pistachio Pistachio

Ben & Jerry's Peanut Butter Fudge Core

Ben & Jerry's Peanut Butter Cup

Ben & Jerry's Oat of this Swirled

Ben & Jerry's New York Super Fudge Chunk

Ben & Jerry's Milk & Cookies

Ben & Jerry's Karamel Sutra Core

Ben & Jerry's Everything But The...

Ben & Jerry's Coffee Toffee Bar Crunch

Ben & Jerry's Cinnamon Buns

Ben & Jerry's Chunky Monkey Non-Dairy

Ben & Jerry's Chocolate Fudge Brownie Non-Dairy

Ben & Jerry's Chocolate Chip Cookie Dough

Ben & Jerry's Chocolate Cherry Garcia

Ben & Jerry's Cherry Garcia Non-Dairy

Essentials / Misc.

ReaLemon 100% Lemon Juice

Not as iconic as their classic red cousin, but great for adding variety to your party.

Please note that the item received will not be the same as the image displayed.

Wine / Red Wine

Medium- to full-bodied and dry, this merlot is all about the taste of black cherry, ripe plum, and hints of oak that combine for a velvety richness.

Barefoot California Merlot

Barefoot's merlot really embraces the delicious combo of cherry, boysenberry, plum, and chocolate with delightfully gentle tannins.

Barefoot Cabernet Sauvignon

Barefoot's cab is big on berry flavor and the addition of currant and raspberry aromas make it a yummy (and affordable) choice.

Barefoot Lodi California Zinfandel

Long day at work? Kick off your shoes and cozy up with a bottle of Barefoot's invitingly fruity zinfandel. Delicious with carbs or chocolate.

Need a red blend that's a little mysterious? Bogle's "Phantom" is ideal for Halloween parties, mystery dinner theatre, and intense games of Clue.

This is a dry, mild pinot, both tart and juicy with a very thin texture and a light finish.

Kenwood Sonoma County Zinfandel

These intense notes of fruit and spice will show you who's boss and the label's so cute you'll either need to save the bottle or just buy another one.

Josh Cellar's cabernet is aromatic with scents of dark fruits, cinnamon, clove, and toasty oak. On the tongue, hints blackcurrant and blackberry will be observed.

Kenwood Sonoma County Merlot

You might want to buy this merlot just for the well-designed label, but it's also deliciously well-aged with prominent dark fruit flavors.

Kenwood Sonoma County Cabernet Sauvignon

Packed with classic bold flavor and aged nearly 2 years in European and American oak, this cabernet is a worthwhile investment.

Four Vines Old Vine Zinfandel

HESS SELECT MENDOZA ARGENTINA MALBEC

Wine / White Wine

Slightly fizzy, this light-bodied wine will keep you feeling refreshed with powerful peach flavors and hints of tropical fruit.

STELLA ROSA MOSCATO SWEET

Light-bodied and exquisitely sweet, this refreshing wine boasts bold flavors of peach, honey, and ripe citrus.

Barefoot California Sauvignon Blanc

Kick off your shoes, and relax with Barefoot's tasty sauvignon. You'll be whisked away with gentle flavors of honeydew, nectarine, peach and melon.

You don't have to spend a fortune on good wine. Barefoot has you covered with their light, citrusy, and floral pinot grigio.

Barefoot California Riesling

Barefoot's riesling is the perfect bottle to float with you in the backyard pool, as it keeps you refreshed with juicy apple and lemon flavors.

Barefoot California Chardonnay

Reminiscent of warm summer nights and crisp fall days, Barefoot's chardonnay is an affordable option for indulging in sweet peach and apple flavors.

Bogle California Chardonnay

Ripe with flavors of apple and pear, this white wine is elegantly balanced with a smooth finish thanks to an oak barrel signature.

Kenwood Sonoma County Chardonnay

Kenwood's chardonnay features a crisp acidity, strong structure, and round classic flavors. Sonoma Valley for the win.

Hess Select North Coast Sauvignon Blanc

The palate will experience elegant notes of tropical fruit while the nose is introduced to pleasant hints of fresh-cut grass.

Hess Select Monterey County Chardonnay

This chardonnay was sourced in beautiful Monterey. The wine will awaken the senses with layered aromas of lemon, apple, and hints of toasted oak.

CARLOS ROSSI WATERMELON SANGRIA

STELLINA DI NOTTE PROSECCO

Santa Margherita Prosecco

CASTELLO DEL POGGIO PROSECCO

GALLO CALIFORNIA SAUVIGNON BLANC

CARLOS ROSSI PINEAPPLE SANGRIA

Wine / Sparkling

BAREFOOT BUBBLY PINEAPPLE

Andre Cold Duck Sparkling Sweet Red

Andre's Cold Duck mixes full fruity flavor with a fizzy texture, essentially taking your standard table wine and making it more fun!

You don't have to go to Georgia to enjoy a little sweet peach. The crisp texture and hint of orange in this moscato is sure to please you.

Andre Extra Dry California Champagne

Counterintuitively, this champagne is only semi-dry—not as dry as a brut—but its sparkly texture and pear and apple hints are killer.

Andre California Champagne

Andre's classic champagne is medium to dry in body, and exhibits notable flavors of green apples and sweet lemons.

Andre Moscato California Champagne

Crisp with light citrus hints, this moscato is rightly sweet and best served chilled for your summer date night or room temperature for entertaining.

Bursting with juicy strawberry and pomegranate aromas, this crispy peach-finished moscato will tickle your tongue and delight your heart.

Barefoot Bubbly Pinot Grigio Champagne

Part of Barefoot's super delicious bubbly lineup, this sparkles with citrus flavors and orange blossom aromas.

Barefoot Bubbly Peach Fusion

Part of Barefoot's super delicious bubbly lineup, this sparkling drink explodes with bright, juicy peach flavor.

Barefoot Bubbly Moscato Spumante Champagne

Part of Barefoot's super delicious bubbly lineup, this sparkling drink explodes with apricot, peach, and tangerine flavor.

Cook's Extra Dry California Champagne

Elegantly balanced, the extra dry's bouquet of toasty yeast and floral notes combines well with its apple and pear aroma and crispy fruit flavoring.

Barefoot Bubbly Extra Dry Champagne

Part of Barefoot's super delicious bubbly lineup, this crowd pleaser's apple flavor and smooth finish is great for any occasion.

Barefoot Bubbly Brut Cuvee Champagne

This brut is Barefoot's driest and most traditional bubbly. Layered flavors of green apple, jasmine, hints of kiwi and peach will tickle the palate.

Part of Barefoot's super delicious bubbly lineup, this balanced drink offers pear and apple flavors with a gentle but zesty lemon finish.

Cook's Spumante California Sparkling Wine

This light sparkling wine is sweet with peach and lychee flavors with floral nuances and a long, smooth finish.

California - Gentle citrus and toasted apple flavors present well in this popular medium-dry champagne.

Korbel Natural California Champagne

Hailing from California, this classic champagne is sure to impress. It will delight with bubbly flavors of baked apple, lemon zest and red cherry.

Korbel Extra Dry California Champagne

Almost as dry as Korbel's brut, the extra dry offers flavors of bright citrus, vanilla, and spice for a fresh Californian character.

Italy - This sweet sparkling wine offers aromas of apple, fruit, and thyme, giving it a smooth and full finish.

Korbel Chardonnay California Champagne

Classic Korbel. Did you know it won a gold medal in the January 2017 SF Chronicle Wine Competition? Relish the great texture and hints of pear.

Piper Sonoma Blanc de Blancs

With fruit sourced from cool-climate Russian River Valley, this champagne displays a crisp acidity, delicate body, and lingering finish.

This brut opens with aromas of ripe apple, toast and peach. The wine will please the palate with citrus flavors accented with strawberry and vanilla smoke.

Italy - This prosecco is well balanced with notes of apple, lemon, and grapefruit with a slight minerality and a lemon finish.

Napa Valley, California - This brut captures bright apple, pear, and citrus flavors with a hint of spice and a nice dry finish.

Champagne, France - This champagne offers plum, lemon, and honeysuckle aromatics with notes of butter, vanilla sugar, and a hint of grapefruit.

Piper-Heidsieck Brut Cuvee

Champagne, France - This lively brut offers smooth pear and apple flavors with a hint of citrus for a well-balanced, light, crisp finish.

Moët and Chandon Nectar Imperial Champagne

The Imperial is Moët and Chandon's boldest champagne. It boasts a subtle fruitiness, a richness on the palate, and a crisp finish.

Veuve Clicquot Yellow Label Brut

Champagne, France - With slight minerality, this brut offers peach, plum, and pear aromatics with notes of anise, biscuit, and a smoky finish.

Perrier-Jouët Belle Epoque

Full-bodied, tangy, and with an almost crystalline quality, this premium champagne is perfect for holidays and congratulating loved ones.

This luxe champagne is the ultimate in drinkable pleasure. Balanced fruit flavors and a silky texture make Cristal an unforgettable experience.

MUMM NAPA BLANC DE BLANCS

MARTINI AND ROSSI PROSECCO

Bailly-Lapierre Cremant de Bourgogne Reserve Brut

BAREFOOT BUBBLY EXTRA DRY

BAREFOOT BUBBLY MOSCATO SPUMANTE

Barefoot Bubbly Brut Cuvee

BOONES STRAWBERRY DAIQUIRI

CARLO ROSSI MOSCATO SANGRIA

CARLOS ROSSI RASBERRY SANGRIA

CARLO ROSSI MOSCATO SANGRIA

Wine / Rosé

Gallo California White Zinfandel

A crisp and refreshing wine, this zinfandel will dance on the palate with flavors of fresh strawberry and hints of sweet, white peach.

Gallo California Pink Moscato

This light-bodied moscato bursts with flavors of fresh red berries and orange blossoms, while aromas of fresh citrus and peach greet the nose.

Barefoot California Pink Moscato

Born in Cali, and traditional in flavor, this affordable wine was made to please. The tongue will experience subtle hints of red fruit.

Charles and Charles Rosé Wine

Boasting flavorful hints of watermelon, grass and citrus, this dynamic rosé pairs beautifully with grilled salmon.

This sparkling wine exhibits bright flavors of strawberry, cherry and melon. Share it with friends by the pool.

This sparkling Russian River Valley rosé boasts a fresh and fragrant berry aroma, soft texture, and a delicate dry finish.

Champagne, France - This copper hued and full-bodied rosé entices with fruit and biscuit aromas and a bright strawberry flavor.

Canella Spumante Brut Rose

Bailly Lapierre Crémant de Bourgogne Rosé Brut

FARNESE FANTINI CERASUOLO ROSE

BAREFOOT BUBBLY BRUT ROSE

Spirits / Vodka

Seagram's Extra Smooth Vodka

This unique American vodka starts smooth before turning hot and prickly with notes of smoke through the palate before an ashy finish.

Smooth vodka bursting with sweet raspberry, blackberry, and strawberry flavors.

Ultimately smooth vodka with fresh and crisp apple flavor.

Distilled five times for a smooth and pure flavor with a sweet finish.

Triple distilled and 10 times filtered, a classic winner.

Imported from Sweden and distilled five times from winter wheat.

Smirnoff Triple Distilled 100 Proof Vodka

Extraordinarily smooth and robust vodka with a clean, dry finish.

Classic Russian vodka with hints of sweetness and citrus and a smooth finish.

Perfectly balanced vodka made with French wheat for an ultimately smooth experience.

Rich, full-bodied and complex with no sugar added.

Exceptionally clean, quadruple distilled, and triple filtered.

Light and crisp vodka with ripe cherries and no additional sugars

Masterfully made by Tito himself in Austin, Texas.

Skyy Infusions Bartlett Pear

Smooth vodka with juicy and ripe pear flavor and a hint of citrus.

Triple distilled for ultimate smoothness with a lightly fruity nose.

Vodka made with the finest French grapes, juicy mango, and notes of bright citrus.

Refined and smooth with the natural character of grapes.

The fifth flavor-infused Ciroc varietal highlights a succulent pineapple flavor.

Crisp and lively with a long finish and subtle flavors.

This flavor-infused Ciroc varietal highlights a crisp green apple flavor.

The first flavor-infused Ciroc varietal highlights a creamy sweet coconut flavor.

The third flavor-infused Ciroc varietal highlights a juicy peach flavor.

This flavor-infused Ciroc varietal highlights a luscious dark ripe berry flavor.

Grey Goose La Poire Pear Flavored Vodka

Ooh la la! This high-quality French vodka is bound to delight with flavors of juicy pears, and notes of honeysuckle.

Blue Ice Handcrafted American Potato Vodka

Composed of spuds grown in Idaho, this classic American vodka will win you over with clean flavors, and a surprisingly long finish.

Boasting a silky finish with undertones of cavaillon melon and almond, this premium vodka was made to impress.

The main ingredient to this premium vodka is winter wheat grown in the Picardy region of France. This is vodka at its finest!

Clear and fresh with a gentle sweetness.

Authentic and luxurious with velvety texture and vanilla and spice notes.

Hangar One Mandarin Blossom

Defined by bold aromas and flavors of citrus, this vodka will please the palate with a crisp, delicate finish.

Crisp with honeysuckle, citrus, and pear notes.

Composed of Midwestern grains and makrut limes, this vodka displays complex flavors with hints of wood, white pepper, and cucumber.

St. George All Purpose Vodka

With Bartlett pear as its secret weapon, St. George is the perfect building block for your favorite vodka cocktails.

This delicious vodka is infused with a variety of lemons and limes to create a flavor that's marked by sweet undertones, and hints of honey.

Grey Goose La Citron Lemon Flavored Vodka

Using lemons grown in the Menton region of France, Le Citron exhibits fresh notes of lemon with a rich finish.

Peaches and apricots come together to develop a full-bodied vodka with seductively sweet flavors followed by a finish marked by hints of almond.

Who knew the humble potato could produce such a creamy, apple-vanilla scented vodka without a trace of burn? (Chopin. They knew.)

Barr Hill's vodka is distilled with raw honey. The spirit nods to the beekeepers that work hard to produce the sweet, golden nectar.

Spirits / Whiskey

Made in new charcoaled barrels for an elegant, timeless, and refined bourbon.

Seagram's Vo Canadian Whisky A Blend

Light and smooth with notes of earthiness and spice.

Buttery and easy to mix with a sweet brown sugar aroma.

Cinnamon-packed and undeniably warm.

Jack Daniel's Tennessee Fire

A tantalizing blend of Jack Daniel's Old No. 7 with a flash of hot, peppery cinnamon liqueur. Playing with fire's never been so delicious.

Charcoal mellowed with original sugar maple flavors and aged in handcrafted barrels.

Bushmills Irish Whiskey Triple Distilled

Instantly warming with flavors of rich honey and citrus zest.

Smooth whiskey with fresh juicy apple flavor and notes of caramel.

Timeless whiskey with a floral fragrance and sweet peppery wood notes.

Creamy Canadian whisky that goes down smooth with a long, rich finish.

Tullamore D.E.W. Original

An original blend, this whiskey is Triple distilled and patiently aged in a combination of ex-bourbon and sherry casks.

Spicy sweet oak aromas with a smooth maple, nut, and oak palate.

Layers of spicy and floral aromas blend seamlessly with toffee sweetness.

Impressively complex and smooth with notes of caramel and banana and a roasty finish.

Distinctive with crackling spice and vibrant fruit and pepper flavors.

Knob Creek Straight Bourbon Whiskey

Bright peppery flavors blend harmoniously with notes of nut oil and a dry finish.

Radiant amber color, fresh herb and orchard fruit aroma, and a rich apple and hazelnut flavor.

George Dickel Tennessee Sour Mash Whisky No. 8

Perfect for sipping neat or on the rocks, this whisky's both bold and smoky with caramel aromas and hints of maple and butter.

Johnnie Walker Black Label

Complex and well-blended with dark fruit, vanilla, and smoky flavors.

George Dickel Tennessee Sour Mash Whisky No. 12

A risk-taking blend of older whiskies for a challenging but smooth mix of oak and vanilla with hints of maple and smoke on the finish.

Woodford Reserve Kentucky Straight Bourbon Whiskey

Triple distilled with warm notes of leather, vanilla, and espresso with a mature finish.

Four Roses Bourbon Whiskey

Pear, spice, and floral aromas with a crisp, fruity flavor.

Smoky with notes of toffee, candied fruit, and vanilla.

Larceny Very Special Small Batch Kentucky Straight Bourbon Whiskey

What makes this bourbon so special? Just a taste profile hand-selected by the Master Distillers, and we should mention the Double Gold Medal award.

Well-blended aromas and tastes of Scottish heather, honey, unripe pear, and a hint of oak.

Double aged with a creamy yet floral flavor and a touch of smoke on the finish.

Charred cypress and rye notes with a non-bitter sweetness.

Subtly smooth with aromas of clove and vanilla plus a candied spice palate.

Bold bourbon with notes of vanilla and caramel balanced by a distinct earthiness.

High West American Prairie

A blended bourbon with notes of vanilla, caramel, and dark cherries.

Evan Williams Single Barrel Vintage Kentucky Straight Bourbon Whiskey

Five-time winner of the Whiskey of the Year award, this bourbon was aged in barrels hand-picked by a Master Distiller.

High West Double Rye Whiskey

Mint, honey, menthol, and spice flavor with cinnamon, pine nuts, licorice, and botanical aromatics.

Elijah Craig Small Batch 1789 Bourbon Whiskey

Full bodied with a light smoke flavor and spicy notes.

This whiskey rested in American oak and European oak sherry casks before being cut with Highland spring water for a fine and refreshing flavor.

Knob Creek Straight Rye Whiskey

Small batch bourbon with spice forward flavor and lingering hints of vanilla throughout.

Eagle Rare Kentucky Straight Bourbon Whiskey

Aged for no less than ten years, this delicious bourbon whiskey exhibits opening aromas of toffee, hints of orange peel, honey, leather and oak.

Woodford Reserve Kentucky Straight Rye Whiskey

A perfectly balanced spice forward whiskey with a touch of fruit and a lingering finish.

Maker's Mark 46 Bourbon Whiskey

Complex caramel, vanilla, and spice flavors.

Four Roses Single Barrel Bourbon Whiskey

Plum and cherry flavors with an earthy, fruity, and floral nose.

Jameson Caskmates Stout Edition

This Irish whiskey rested in stout-seasoned casks, which give the spirit notes of notes of cocoa, coffee, and butterscotch.

Four Roses Small Batch Bourbon Whiskey

Fruit, spice, and caramel aromas with an intense berry flavor and a smooth finish.

Jameson Caskmates IPA Edition

Blended Irish whiskey finished in craft Irish Pale Ale-seasoned barrels results in a deliciously hoppy taste, accompanied by hints of citrus and spice.

James E. Pepper 1776 Straight Bourbon Whiskey

Pour this bourbon over ice, and start sipping! This whiskey is spicy-sweet, and introduces the palate to hints of vanilla and cloves.

Monkey Shoulder Blended Malt Scotch Whisky

This monkey is mellow! That's because not a single drop of grain whiskey was used, which gives the spirit a beautifully smooth character.

I.W. Harper Kentucky Straight Bourbon Whiskey

Opens with scents of caramel and vanilla that leads to full bourbon flavors with a finish that's sweet and pleasant.

Dry and grassy with hints of amber butterscotch, toffee, and allspice.

Bold smoky taste with a microscopic hint of Scottish seaweed.

Welcoming and balanced with strong pineapple notes.

Tullamore Dew Irish Whiskey Crock

Malty flavor with a hint of lemon.

Light-bodied with a peppered honey bite.

Glenmorangie Single Malt Scotch 10 Year Old

Woodsy flavor with a hint of honey and a smooth finish.

Smooth and rich whiskey with notes of cinnamon, apples, oak, and vanilla.

Uniquely smooth and matured through American oak casks.

Light bodied and perfect for sipping with notes of stone fruits and smoke and a hot finish.

Pale straw color with a gentle honey and leather aroma and malty oak and fruit flavor.

Michter's Single Barrel Straight Rye

Spicy and citrusy with butterscotch notes.

Michter's Small Batch Bourbon

Vanilla aroma with a touch of sweetness.

Michter's Small Batch American Whiskey

Butterscotch and vanilla flavor with hints of dried fruit and caramel.

Highland Park Single Malt Scotch 12 Year Old

Full bodied with notes of smoke, oak, and sea air with a silky finish.

Baker's Kentucky Straight Bourbon Whiskey Aged 7 Years

With a bottle named after Baker Beam, grandnephew of the legendary Jim Beam, you can expect a quality bourbon produced in small batches.

Bring this hand-bottled whiskey with you on your next adventure! It's cut with Rocky Mountain Spring Water, and aged for the perfect amount of time.

Jack Daniel's Single Barrel Select Tennessee Whiskey

The classic Tennessee Whiskey: caramel-smooth with punchy notes of fruit and spice and sweet aromatics—easy on the tongue and the nose.

Silky and mature with layers of oak, sherry, marzipan and ginger.

Anchor Old Potrero 18Th Century Style

Woodsy aromatics with notes of pepper and smoke.

High West Rendezvous Rye Whiskey

Rendezvous Rye is High West's flagship whiskey, and commemorates the trade gatherings of mountain men in the America West.

High West Yippee Ki-Yay Straight Rye Whiskey

Meant to be sipped neat, this rye boasts hints of cinnamon, dried thyme, and rosemary with subtle notes of blackberry.

Balvenie Doublewood Single Malt Scotch 12 Year Old

Smooth with a nutty, sweet flavor.

Glenmorangie Highland Single Malt Scotch Whisky Aged 12 Years

A truly fine Scotch, this whiskey boasts a complex balance of sweet and dry flavors complimented by a long lasting, silky finish.

The Balvenie Single Malt Scotch Whisky Single Barrel 12 years

Hailing from Scotland, this whisky was aged in an ex-bourbon cask for 12 years. Hints of vanilla and oak will reward the palate.

The Glenlivet Single Malt Scotch Whisky 15 Year Old

Velvety single malt with woody notes at the front and a hazelnut and almond finish.

High West Campfire Whiskey

Smoky and sweet with floral overtones.

Intense flavors of rich vanilla, smoky oak, and hints of coffee with a long finish.

Complex with fruit and honeyed heather scents and a medium balanced palate.

Hibiki Japanese Harmony Suntory Whisky

Japanese whiskey with bold notes of orange peel, chocolate, and a lingering finish.

Distinguished by its expressive oak, baked apple, and cinnamon flavor.

High West Son Of Bourye Whiskey

A premium blend of rich bourbon and rye whiskeys, this is the perfect bottle for sharing stories around a campfire.

Balvenie Caribbean Cask Single Malt Scotch 14 Year Old

Vanilla, oak, and fruit flavors with hints of toffee and a soft finish.

Oban Single Malt Scotch Whisky 14 Year Old

A rich and smoky scotch with notes of earth and wood and a long finish.

Macallan 15 Year Fine Oak Single Malt Scotch Whisky

Classically smooth with bold dried fruit flavors and hints of sherry, smoke, and spice.

Macallan Single Malt Scotch 18 Year Old

Licorice, leather, and tobacco notes with a rich finish and an oaky aroma.

Johnnie Walker Blue Label

Blended scotch whisky that's smokey with hints of honey, hazelnuts, sandalwood, and dark chocolate.

Spirits / Gin

Bright citrus and spicy juniper flavors make this perfect for a gin and tonic.

Smooth and mellow with hints of orange peel, cinnamon, and lilac.

Woodsy with a sage and laurel flavor and notes of citrus.

Rich and warm with notes of spice, citrus, ginger, and stone fruits.

Earthy with hints of ginger, juniper, anise, combined with a bold citrus flavor.

Quadruple distilled and pure, this iconic gin features quality botanicals.

Dry, fragrant, and herbal with juniper from Tuscany.

Barr Hill Reserve Tom Cat Gin

This bold, badass gin is not clear, but brown! Aged in oak barrels with a touch of raw honey, you can forget about whiskey.

Ultra small batch gin featuring an infusion of rose petal and cucumber.

Crisp and clean in taste with firm juniper and the flavors of fresh citrus fruits, this is a gin made for martinis.

Distilled in their custom-built botanical extraction still, Barr Hill's gin is perfectly balanced with botanicals and honey. It's really the bee's knees.

A fresh interpretation created for the next generation of gin drinkers, this gin features peach, Turkish rose, and raspberry.

Spirits / Rum

Sweet white grapes compliment tart arctic berries in this delightfully flavored rum.

Rich and mellow with notes of vanilla, caramel, and orange zest.

Distinctive and smooth white rum with vanilla and almond notes.

Light rum with fresh citrus flavor, perfect for mixing with soda.

Captain Morgan Spiced Rum

Smooth and spicy with notes of vanilla and caramel.

Smoothly spicy with notes of vanilla and cinnamon.

Rooted in pirate lore featuring a palate of caramel and spice.

Best-selling coconut rum with smooth, natural coconut flavor.

Myers's Original Dark Jamaican Rum

A rum to rouse your blood. Rich and full-bodied with strong flavors of caramel, deep chocolate, and burnt toffee.

Flor De Caña Extra Seco White 4 Year Old

A clear, full bodied white rum with light floral aromas and a hint of vanilla.

Brown sugar and vanilla flavors unite with notes of cinnamon and honey for a warm finish.

Sweet strawberries and ripe dragon fruit flavors with a slightly peppery finish.

Medium bodied amber rum with banana and apricot notes and a vanilla finish.

Flor De Caña Añejo Oro Slow Aged 4 Years

Mild flavor with sweet and smoky tones make this the perfect rum for a cuba libre.

Flor De Caña Añejo Clasico Slow Aged 5 Years

Caramel, oak and banana flavors with just a hint of sandalwood and a long, warm finish.

Flor De Caña Rum Gran Reserva 7 Year Old

Both smoky and sweet with melon, oak and pear flavor, and a hint of pepper.

Zaya 12 Year Gran Reserva

Vanilla and caramel aromatics with hints of cocoa and bananas combined with a velvety finish.

Appleton Estate Signature Blend

Fresh and juicy stone fruit flavor is balanced by hints of molasses and wood.

Smooth rum with notes of pear, citrus, and apple, excellent for sipping or mixing.

Ron Zacapa 23 Centenario Rum

Notes of wood balanced by fruity sweetness and vanilla with a long aftertaste.

Spirits / Tequila

El Jimador Tequila Silver

Crisp citrus and herbaceous flavors make this ideal for mixing or drinking on the rocks.

100% blue agave tequila, best served from the freezer.

Golden-bodied and made from a blend of aged and younger tequilas.

Pale straw colored with herbal green apple and agave notes.

Aged in French and American oak barrels, notes of butter, spice, and a hint of smoke.

Fruity, peppery and smooth with 100% Weber blue agave.

Cazadores Tequila Reposado

Prominent notes of agave with hints of vanilla and wood.

Roasted agave flavor mingles with caramel, earth, and smoke, giving a finish with a kick.

Tangy citrus and bright green flavors with a slightly woody and warm finish.

Crystal clear and smooth with 100% Weber blue agave.

Earthy and peppery with agave flavor and a short finish.

Mildly sweet and wonderfully smooth, perfect for mixing in cocktails.

Clean and lively with floral and herbal notes.

Amber tinted and oak wood aged with quality agave flavor.

Sweet agave, vanilla, and citrus flavor with a crisp taste.

El Espolón Tequila Reposado

Bold flavor bursting with notes of tropical fruit and dark spices.

El Espolón Tequila Blanco

Grilled pineapple intertwines with notes of vanilla and spice, giving a clean finish.

Silky, medium-bodied with notes of caramel and cocoa.

Triple distilled for extreme smoothness, notes of agave, pepper, and grass throughout.

Smooth with notes of caramel and vanilla and soft hints of barrel oak and spice.

Aged in American oak whiskey barrels for an oaky, earthy flavor with sweet and spicy notes.

Sweet and floral with a touch of cinnamon and caramel and a lingering finish.

Azunia Blanco Organic Tequila

Free from barrel aging, this organic tequila opens to subtle aromas of agave and lemon with a long, peppery finish.

Rich caramel and vanilla flavors with a long, complex finish punctuated with red pepper.

Oaky flavor with notes of sweet citrus and almond and a smooth finish.

Pasote's blanco is a fiery tequila flaunting tastes of lemon and green agave complimented by heavily peppered scents.

Dulce Vida Tequila Blanco

Bright citrus flavor with hints of spice and a sweet finish.

Siete Leguas Reposado Tequila

Marked by a straw-yellow color, this reposado tequila rests in white oak barrels for eight months to develop an intense personality.

Siete Leguas Blanco Tequila

Sip this blanco by itself to take in the full flavors of premium agave, or mix it to create a fantastic cocktail.

Dulce Vida Organic Reposado Tequila

This reposado is Dulce Vida's most versatile tequila. The flavor has notes of barrel wood and citrus fruit encouraged by a mild, sweet finish.

Greeting the nose with aromas of cooked agave, pepper, and fruit, this reposado tequila boasts complex flavors and a smooth finish.

Tequila Ocho Single Estate Plata

Honoring the noble agaves of Arandas and the Camarena Ranchos, this tequila was crafted without aging to produce a pure and clean flavor.

Spicy flavor with notes of vanilla and apricot and a clean finish.

Dulce Vida Organic Añejo Tequila

Made to be sipped, this organic tequila has a full-bodied flavor and smooth finish thanks to a 24 month rest in select American oak whiskey barrels

Satisfyingly sweet for a traditional anejo, this tequila exhibits notes of marshmallow, vanilla and light caramel.

Tequila Ocho Single Estate Añejo

Resting in American Whiskey barrels for one year, this tequila presents delightful agave flavor complimented by subtle hints of oak.

Tequila Ocho Single Estate Reposado

Characterized by a smooth finish, this reposado will delight tequila aficionados with strong, slightly sweet agave flavors.

Using 100% agave cooked in a brick oven, this tequila exhibits caramel, vanilla, butterscotch and roasted agave aromas.

Spirits / Mezcal

Fernando Santibañez has lovingly used his grandmother's own recipe to create this mezcal by hand in small batches.

Vida is an artisanal, organic, and highly-mixable mezcal set at an entry-level price point to provide broader availability to all mezcal lovers.

Ilegal Mezcal Special Edition Joven Mezcal

Aged 13 months, this Añejo mezcal flaunts maple, clove, and bitter orange aromas with sweet agave on the palate.

Alipús San Luis Joven Mezcal

Made from Espadín agave from the sandy hills of San Luis del Rio, this mezcal offers the expected spiciness counterbalanced by fresh herbal notes.

Ilegal Mezcal Special Edition Añejo Mezcal

So good it should be illegal, this stylish un-aged mezcal has deep agave aromas and hints of green apple, white pepper, and citrus.

Spirits / Brandy

Masterfully aged, this brandy has a mellow, fire-charred amber color and butterscotch aroma.

Smooth and sweet, this is E&J's original brandy that quickly became an American classic. Enjoy it mixed, or sip it straight.

Christian Brothers VS Brandy

Crafted in oak bourbon barrels, this brandy is smooth and full-bodied.

E&J VSOP Superior Reserve Brandy

A warm desserty drink blended for European-style smoothness that tickles the palate with flavors of vanilla, maple and raisin.

Spirits / Cognac

Vanilla-nosed with a powerful, elegant ripe fruit palate.

Intense character with flavors of citrus, apple, oak, and grilled almond.

Medium bodied with a nutty aroma and notes of peach, pear, and honey.

An authentic cognac comprised of mellow, rich flavors.

Perfected over time with a blend of French oak, vanilla, and candied fruit, and spice notes.

Spirits / Liqueur

DeKuyper Peppermint Schnapps

The cool and refreshing standard of peppermint flavor. If you've had peppermint schnapps, you've had DeKuyper.

A sparkling liqueur featuring a unique blend of vodka, passion fruit, and sparkling wine.

This iconic German digestif is flavored with an incredible 56 herbs and spices.

Bailey's Original Irish Cream

Comfortingly marrying Irish dairy cream, Irish whiskey, and a chocolate blend.

Tuaca Vanilla Citrus Liqueur

Italian fruit liqueur with notes of warm vanilla and bright zesty citrus.

Deep Eddy Sweet Tea Flavored Vodka

This vodka is flavored with whole tea leaves and real clover honey. Take a seat on the front porch, and pour a glass.

Flavored with peaches and citrus fruit, this liqueur is a perfect mixer.

Digestive bitter liqueur containing 27 herbs from four continents.

Sweet French liqueur made from elderberries with notes of peach, pear, and grapefruit.

Very sweet French liqueur made from black raspberries with jammy aromas.

RumChata Horchata Con Ron

Cream liqueur made with Caribbean rum and a hint of spice, vanilla, and cinnamon.

Licorice flavor with notes of anise and a sweet and oily finish.

Soft and sweet almond flavors with hints of marzipan and a smooth finish.

Aromatic and juicy melon flavors complimented by hints of banana and a short finish.

A bitter aperitif with bright red color distilled with herbs and fruit.

Uniquely infused liqueur with orange and rhubarb flavors.

Beer / Domestic Beer

Hoppy with citrus and pine flavors.

Bud Light is a premium light lager with a superior drinkability that has made it the best-selling and most popular beer in the United States. Bud Light is brewed using a blend of premium aroma hop varieties, both American-grown and imported, and a combination of barley malts and rice. Bud Light is a light-bodied beer featuring a fresh, clean taste with a subtle hop aroma, delicate malt sweetness and a crisp finish that delivers the ultimate refreshment.

Bud Light Lime is perfect for a hot summer day. Brewed with real lime peels, you'll enjoy a clean and crisp taste with a hint of natural lime flavor in every sip. Made with essential ingredients and at 4.2% ABV, it's a refreshing take on America's light lager -- with a real twist!

Known as "The King of Beers", Budweiser was first introduced by Adolphus Busch in 1876 and is brewed with the same high quality standards today. Budweiser is a medium-bodied, flavorful, crisp American-style lager, craft brewed with a blend of premium hop varieties, and associated with the core American values of celebration and optimism.process to assure purity, quality and consistency.

Warm golden color and light bitterness.

Zesty, fruity, and slightly spicy with 9 IBUs.

Deep and creamy with a blend of pale and caramel malts.

A delicious, versatile Louisiana original. Smooth, malty, slightly caramel and a rich amber in color.

Abita Purple Haze Raspberry Lager

13 IBUs and refreshing, creamy raspberry flavor.

Hailing from America's first and oldest craft brewery, this lager boasts a deep amber color, creamy head, and distinctive flavor.

45 IBUs with notes of grapefruit and grass.

54.20 IBUs, lots of dry hops, toasted malt, and a biscuity flavor.

82 IBUs, sweet malt flavor, and perfectly balanced hops.

32 IBUs with roasted malt, coffee, and molasses flavor.

Sierra Nevada Torpedo Extra IPA

Full of rich citrus, herbal, and pine flavors.

Bear Republic Racer 5 IPA

Full-bodied and hoppy with 75 IBUs.

Newly classic pale ale with pine and grapefruit aroma.

Light, crisp, and totally crushable.

Lightly herbaceous with a crisp, clean finish.

Sierra Nevada Tropical Torpedo Tropical IPA

A take from one of Sierra Nevada's hoppiest brews, this IPA boasts aromas of mango, papaya and passionfruit.

Lagunitas A Little Sumpin' Sumpin' Ale

Hop-forward with citrusy and piney flavors.

90 IBUs, imperial IPA, extra hoppy with a malty aftertaste.

Bear Republic Pace Car Racer Hoppy Session Ale

Be happy by getting hoppy with this session IPA. It's a refreshing ale that boasts opening aromas of pine and citrus.

Belgian-style wheat beer with hints of coriander and orange.

Farmhouse ale, with notes of citrus and pepper and a dry finish. 4 Pack of 12oz Bottles

Goose Island's India Pale Ale recalls a time when ales shipped from England to India were highly hopped to preserve their distinct taste during the long journey. The result is a hop lover's dream with an IPA boasting a fruity aroma, set off by a dry malt middle, and long hop finish. Goose Island IPA pairs well with blue cheese or aged gouda.

Citrus, stone fruit and pine notes.

Extremely drinkable creamy blonde.

Complex with notes of banana and honey.

Dogfish Head 60 Minutes IPA

60 IBUs, citrusy, hoppy, well balanced ale.

Forget the corporate ladder. Pair a Joe's IPA with car camping! This IPA is aggressive from the start, but finishes nice and clean. Expect flavors of tropical fruit, tangerine, light pineapple, adn grapefruit to load up your senses. Meet the award-winning Joe IPA, formerly Sam, named after the hops Simcoe, Amarillo and Mosaic. Joe has a bright citrusy flavor and packs an intense hoppy aroma for a full-on hop punch in the face.

10 Barrel Crush Cucumber Sour

This award winning beer is light and crisp. What is more refreshing then a cold glass of tap water? A cold glass of cucumber tap water. 10 Barrel added cucumbers to their Sour Berliner Weiss to give you a nice refreshing substitute to tap water. Cucumber Crush might sound like a strange flavor for a beer... But trust us, it is the most refreshing and crushable sour you could ask for. #drinkcrush

Coronado Idiot Imperial IPA

This IPA was brewed with an abundance of hoppy goodness. A blend of Cascade, Centennial, Chinook and Columbus hops make this beer bitterly sweet.

Space Dust is a West Coast style IPA that transports assertive bitterness with a sweetness of hop flavors. Late and dry additions of Citra and Amarillo are pure starglow energy with grapefruit, mango, and orange aromas. The combination of malts gives this beer a bright and galactic Milky Way hue. Available year round.

Ballast Point Watermelon IPA

This double IPA is balanced by bold watermelon flavors. The perfect summertime beer for your next backyard BBQ.

Ballast Point Sculpin IPA

70 IBUs, fruity with notes of apricot, mango, peach, and a hint of lemon.

Ballast Point Pineapple Sculpin IPA

70 IBUs, hoppy with a fruity pineapple flavor.

Ballast Point Grapefruit Sculpin IPA

70 IBUs, IPA with a hoppy citrus and tart grapefruit flavor.

40TH HOPPY ANNIVERSARY ALE

NORTH COAST BROTHER THELONIOUS

NORTH COAST OLD STOCK ALE

DESCHUTES FRESH SQUEEZED IPA

DESCHUTES BLACK BUTTE PORTER

ALLAGASH HOPPY TABLE BEER

BALLAST POINT SCULPIN ALOHA

EDGE OF THE CONTINENT CIDER SEMI-DRY

Karl Strauss Aurora Hoppyalis

FANTASTIC HAZE IMPERIAL IPA

Berry Hibiscus Hard Kombucha

Golden Road Brewing K-38 Oscura

Tangerine Hop Nosh IPA UINTA

Firestone Walker FlyJack Hazy IPA

Voodoo Ranger American Haze IPA

Hard Frescos Juicy Jamaica (Hibiscus)

Tangy Tamarindo - Hard Frescos

Dust Bowl Brewing Lo-Cal Lager

Boulevard Brewing Co- Jam Band

6-12oz Can Berry Ale with Blueberry, Red Raspberry, and Cherry

Beer / Imported Beer

Mildly malty and refreshing. Great with a lime.

Light floral crispness and a clean finish.

Sweet and lightly hoppy pilsner-style lager.

Smooth, clean, and fruity lager.

Einstok Olgerd Icelandic Toasted Porter

Unleash your inner viking! This smooth porter is 100% vegan, and rich with hints of chocolate, toffee and licorice.

Einstök Ölgerd Icelandic White Ale

Smooth classic witbier with light citrus and spice flavor.

North Coast Old No. 38 Stout

Beer / Cider

Angry Orchard Hard Apple Cider

Crisp, refreshing and complex.

Angry Orchard Hard Cider Green Apple

Impossibly drinkable with tart apple flavor and notes of honey.