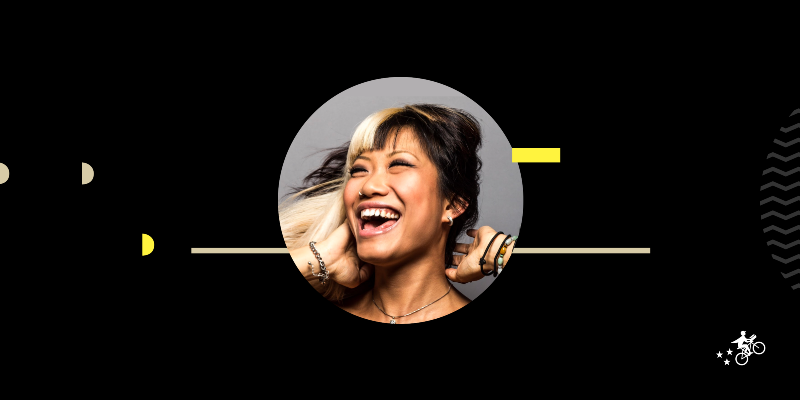 Faces of Fleet — Meet Olive Hui
---
Faces of Fleet — Meet Olive Hui
---
You'd be hard pressed to find a word better than magnetic to describe New York City-based Olive.
On one hand, this self-described "artprenuer" is likely the coolest person you'll speak to all week. But on the other hand, she's so damn relatable. For instance, she too has fallen asleep in a yoga class and is on the never-ending quest to educate her traditional parents about whatever it is Millenials are into at any given moment.
If you have the fortune of meeting Olive, you might leave feeling like you've known her your entire life. And for some, that familiarity is grounded in truth. For instance, you might recognize her voice from Obamacare's Cantonese hotline. Or maybe you caught her dancing in Sisters alongside Tina Fey and Amy Poehler. If that's not it, it's probably because you've seen her band Late Cambrian on their European tour.
You get it. She's busy and pays her personal motto — "Do what you love and find a way to get paid." — much more than lip service by sustaining as many as 18 different projects and income streams at once.
When she's not Postmating, touring with her band, dancing with celebrities, or recording voiceover work, you can find Olive interviewing people like Cindy Gallop on her YouTube channel, New York Real TV, helping others as a Reiki healing practitioner, or creating unique and immersive experiences.
When it comes to Postmates, she regards her work as a spiritual practice (we told you she's not like most people).
"It's like a virtual-REALITY game in my own city with real rewards. I enjoy the motion of moving forward, thinking on my feet, and helping others. Delivering emergency burn cream was quite an experience."
With so many passions, you may think it's difficult to weave a common thread through each. Not for Olive. With each opportunity, she brings consciousness, peace, and an open heart — a mentality that would serve each of us.
Listen to Olive's music here.
Watch Olive's YouTube channel here.
See Olive's art here.
Fleet
Food
Postmates