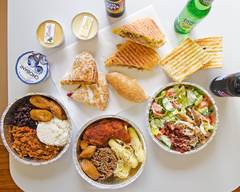 33 Elmwood
View delivery time and booking fee.
Location and hours
Sunday - Tuesday
Closed
Wednesday - Saturday
04:00 PM - 07:00 PM
---
Heat at Home

Macaroni and Cheese

Pasta, cheese sauce, and crumb. Serves 4.

Pasta house, marinara, mozzarella, pepperoni, green peppers, and onions. Serves 6.

Lobster Chowder

Maine lobster. Potatoes. Corn. Cream. Tarragon & Chives. Gf - Serves 4

vegan and gluten free

Ground beef. Onion, garlic, gravy, peas, whipped Yukon gold potatoes, and parsley.

Gluten Free

24 ct. Served Buffalo style or sweet chili choice of ranch or bleu cheese.

Gluten Free

House Salad

Mixed greens, tomatoes, and cucumber. Pickled red onions, balsamic, and roasted garlic vinaigrette.

vegetarian and gluten free

Bites

Fried Deviled Eggs

4 pcs sriracha, scallion, and sea salt.

4 boneless chicken tenders. Breaded. Deep-fried. Choice of house BBQ or honey mustard.

Crispy Brussels Sprouts

Bacon lardons and balsamic drizzle.

vegan and gluten free

Sauce served on the side choice of roasted garlic mustard aioli. Rosemary and sweet onion cream. Curried ketchup.

Gluten Free

In Between Things

Marble rye, sauerkraut, scratch thousand Island dressing, Swiss cheese, and side house pickles.

Peppered beef brisket, brioche bun, 33 BBQ sauce, slaw, and side house pickles.

Corn tortillas. Grilled shrimp, pineapple mojo, julienne of cabbage, and red onion, and pickled jalapeno. Fresh cilantro.

Gluten Free

Grilled Cheese

Cheddar, mozzarella, and Swiss.

Dessert and Beverage

Chocolate, vanilla, and coffee.

Gluten Free

33.8 oz still mineral water.

500 ml of sparkling mineral water.