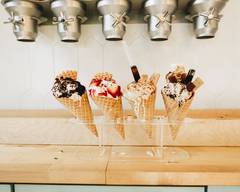 Astro Ice Cream
View delivery time and booking fee.
Location and hours
Sunday
12:00 PM - 08:30 PM
Menu
12:00 PM - 09:00 PM
Menu
Monday - Saturday
12:00 PM - 08:30 PM
Menu
---
Pints

Pint - Made with the highest quality Madagascar vanilla bean mixed with vanilla shortbread

Pint - The most chocolatey chocolate ice cream made with the highest quality cocoa powder available, combined with chunks of our most chocolatey chocolate brownie cake to create the most chocolatey chocolate combination ever!

Pint - Using the freshest strawberries from Plant City, we re-created one of the most popular desserts in America: The Strawberry Shortcake! You'll enjoy the sweetness of the ripe-picked strawberries along with chunks of our soft & fluffy shortcake.

Pint - Sweet and Salty lives in perfect harmony in our Salted Caramel Swirl ice cream. The sweetness of our house-made caramel is balanced with the saltiness of sea salt, creating the smoothest ice cream ever! But we aren't done yet... we add in even more caramel to create a unique caramel swirl for an even more caramel taste and we top your scoop with a pinch of sea salt.

Creme Brulee Cafe Con Leche 

Pint - This coffee based ice cream is made from a local craft coffee roaster. We combine their amazing coffee with homemade creme brulee, creating the perfect cafe con leche ice cream.

Brown Sugar Whiskey Cookie Dough 

Pint - Sophisticated yet fun, this ice cream will make you crave for more! A simple reduction of brown sugar and borbon creates an amazing and sophisticated flavor combination. We then add chocolate chip cookie dough to create a fun and contrasting ice cream that both the young and the young at heart will enjoy.

Pint - Whats better than a frozen mar garita in a hot summer day? Absolutely nothing. We've recreated this favorite drink into a refreshing sorbet using fresh mangoes and fresh lime juice to create the perfect balance of sweet and tart.

Cinnamon Snickerdoodle Marshmallow 

Cinnamon snickerdoodle cookies combined into the most comforting, home sweet home taste that you will absolutely love! We then add in marshmallow fluff and chocolate chips for the most amazing combination of flavor and texture.

Pint - an ode to Tampa's history and perhaps one of its favorite treats: the Guava Turnover. The smoothest cream cheese ice cream you will ever taste balanced with the sweetness of the guava ribbon throughout. Prepare to indulge and transport your taste buds into the tropics.

Banana Pudding Peanut Butter Cookie 

Pint - Made from bananas at their peak ripeness, we fold banana pudding into fresh cream to create a rich banana pudding ice cream. We then add peanut butter cookie brittle for a taste contrasting texture.

Ybor Rum Toasted Coconut Meringue Pie 

Inspired by prohibition era rumrunning in Ybor City, Florida; this amazing ice cream is made using real r u m, toasted coconut, and the prefect meringue; creating a sophisticated ice cream flavor that honors the rich rumrunning history of Ybor City.