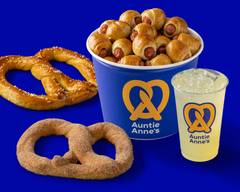 Location and hours
3700 North Cabelas Blvd Space 234, Lehi, UT 84043
Sunday
11:15 AM - 5:15 PM
Monday - Saturday
10:15 AM - 7:15 PM
Auntie Anne's (3700 North Cabelas Blvd Space 234)
3700 North Cabelas Blvd Space 234, Lehi, UT 84043
Enter your address above to see fees, and delivery + pickup estimates.
Cinnamon Sugar Pretzel Nuggets

Pepperoni Pretzel Nuggets

Original Pretzel Nuggets Bucket

Dragonfruit Mango Lemonade Frost

Football Favorites

Game time snacks are not the place to play around. Feed your crew with options from our Football Favorites menu. Hut, hut. Order!

Featured Products

Here you'll find our latest limited time offers, products and promotional items!

Dragonfruit Mango Lemonade Frost

Dragonfruit Mango Lemonade Mixer

Dragonfruit Mango Frozen Lemonade Mixer

Snack Packs for 4 (or more!)

Add some variety to snack time with our NEW, Family Snack Packs. The best of the best from Auntie Anne's, packaged and priced at a value.

Pretzel Nugget Bucket Snack Pack

Mini Dogs Bucket Snack Pack

Pretzel Buckets

Food is meant to be shared! Feed groups of 5-10 with our Pretzel Buckets.

Original Pretzel Nuggets Bucket

Cinnamon Sugar Pretzel Nuggets Bucket

Pretzel Bundles

Create the perfect mini-meal by bundling up your favorite pretzel snack, dip and drink, all in one.

Pretzel Nuggets

Bite-size that tastes life size!

Pretzel Dogs & Mini Pretzel Dogs

All of our Pretzel Dog products are proudly made with Nathan's Famous® all-beef hot dogs.

Classic Pretzels

Whether you're feeling salty or sweet (or a little of both), we have what you crave! Choose from our Classic Soft Pretzel flavors for the perfect snack.

Refreshing Drinks

The perfect pretzel pairing. Quench your thirst with a refreshing Lemonade or soft drink from Coca-Cola.

Dips

Add dips to your order to elevate your snacking experience.
Frequently asked questions