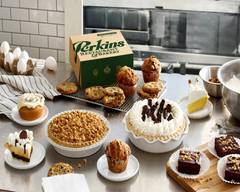 Location and hours
1503 Traveler'S Point, Avon, OH 44011
Every Day
7:00 AM - 8:00 PM
Bakery by Perkins (1503 Traveler's Point)
1503 Traveler'S Point, Avon, OH 44011
Enter your address above to see fees, and delivery + pickup estimates.
New York Cheesecake Slice

Chocolate Peanut Butter Drop

Half Dozen Chocolate Chip Cookies

Half Dozen Chocolate Walnut Brownies

Lemon Meringue Pie, slice

Half Dozen Apple Cinnamon Mammoth Muffins®

Half Dozen Banana Nut Mammoth Muffins®

Chocolate French Silk Pie, slice

Pumpkin Bakery

Pumpkin Cream Cheese Mammoth Muffin, Single

Mammoth Muffins®

Fresh Baked items in this category have limited quantities that vary by product to ensure the best quality and availability for same day pickup. If a larger quantity is desired, please contact the location direct to place an order.
Frequently asked questions