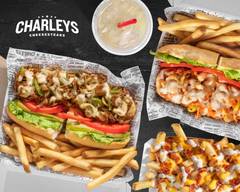 Location and hours
14833 Detroit Ave, Lakewood, OH 44107
Sunday
11:00 AM - 7:30 PM
Monday - Saturday
10:30 AM - 8:30 PM
Charleys Cheesesteaks and Wings - Lakewood City Center - OH
4.8 (39 ratings) • Sandwich • $
  •  
More info
14833 Detroit Ave, Lakewood, OH 44107
Enter your address above to see fees, and delivery + pickup estimates.
Picked for you

SPECIALS

4 PC BONELESS WINGS & FRY

CHEESESTEAKS

Every Charleys cheesesteak is grilled to order using quality meats, fresh melted cheese, and hand-cut veggies, all seasoned to perfection and piled on our signature toasted roll.

KENTUCKY BOURBON CHEESESTEAK

SIDES

Craving more? Choose from our menu of sides to add some variety to your Charleys Cheesesteaks order!

DRINKS

At Charleys Cheesesteaks, all drinks are poured to order. Choose from our signature Real Fruit Lemonades, soft drinks, iced teas, and more.

WINGS

Charleys boneless and classic bone-in wings are hand-tossed in your choice of chef-inspired rubs and sauces. Available in orders of 6, 10, 30, or 50 wings.

KIDS

Charleys Cheesesteaks has something for everyone - including little humans with big appetites. Each Charleys Kids Meal is prepared fresh to order.

EXTRA SAUCES

2-ounce cups of our favorite dressings, sauces, and rubs.

CHOOSE FROM THE FOLLOWING:

Please only add 1 of each that you choose. The store will distribute the appropriate amount for your order.