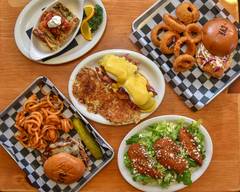 Location and hours
692 Portsmouth Ave, Greenland, NH 03840
Every Day
1:00 PM - 1:01 PM
Country View Restaurant
Enter your address above to see fees, and delivery + pickup estimates.
$ • Breakfast and Brunch
 • 
American
 • 
Sandwiches
Sunrise Specials

Farm Fresh eggs

Two Eggs with bacon, sausage or ham

Three Eggs with bacon, sausage or ham

Two eggs, pancakes or french toast, hash browns and choice of bacon, sausage or ham(substitute corned beef hash for .50 cents.

Omelettes

Corned beef hash and Swiss cheese with hollandaise sauce.

Fresh tomatoes, green peppers, onions and mushrooms.

Start with cheese, then build it from there (includes up to 2 ingredients plus cheese) .

Benedicts

Two poached eggs, sweet Italian sausage, sautéed onions & peppers on grilled english muffin. Topped with creamy hollandaise sauce.

A grilled cheese of sourdough bread, mozzarella cheese, bacon and two poached eggs. Topped with creamy hollandaise sauce.

Pancakes Plus

Breakfast Sides

Fresh Fruit With Yogurt & Granola

Loaded Hash Browns ( w/ bacon and onions)

Burgers

Mushroom Swiss Patty Melt

Sandwiches

Grilled chicken breast, bacon, lettuce, tomato, onion & your choice of cheese on a brioche roll.

Baskets and Plates

Super Sides

House made seasoned chips

Soups and Salads

Cup of delicious soup with your choice of half an egg salad, tuna salad, turkey, ham, grilled cheese, BLT or grilled ham and cheese sandwich.

Call for today's selection!

Beverages

Squamscot Bottled Root Beer

Locally sourced bottled Root Beer.