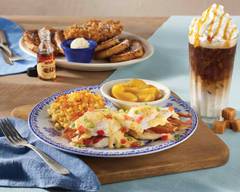 Location and hours
126 Interstate Blvd., Anderson, SC 29621
Sunday - Thursday
7:00 AM - 8:45 PM
Friday - Saturday
7:00 AM - 9:45 PM
Cracker Barrel Old Country Store (126 Interstate Blvd.)
126 Interstate Blvd., Anderson, SC 29621
Enter your address above to see fees, and delivery + pickup estimates.
$ • Burgers
 • 
American
 • 
Sandwiches
 • 
Family Meals
Momma's Pancake Breakfast®

Build Your Own Homestyle Breakfast

Momma's French Toast Breakfast®

Hand-Breaded Fried Chicken Tenders

Family Meal Baskets

Meatloaf n' Tenders Family Meal Basket

$61.09

•

2020 - 2560 Cal.

All-Day Pancake Breakfast Family Meal Basket

$51.99

•

2240 - 3010 Cal.

Sunday Homestyle Chicken® Family Meal Basket

Southern Fried Chicken Family Meal Basket

Grilled Chicken Tenderloins Family Meal Basket

Double Chocolate Fudge Coca-Cola® Cake

Freshly Brewed Sweet Iced Tea (Half Gallon)

Breakfast - All Day

Kid's Menu

Salads

Sandwiches n' Burgers - 10:30AM to Close

Lunch n' Dinner - 10:30AM to Close

Beverages - All Day

Sweets - All Day

Crafted Coffee - All Day

Grocery n' Games

Enjoy a more complete Cracker Barrel experience with your to-go meal. Add one of our favorite retail items to your order.

Silverware N' Extras

Single-use plastic items and condiments will not be included unless requested within your order
Save $5. Conditions apply.
Frequently asked questions