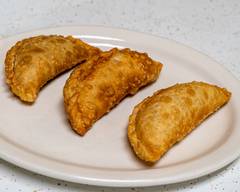 Location and hours
103 Casey Ave, Wilkes-Barre Township, PA 18702
Sunday
9:00 AM - 11:00 PM
Monday - Wednesday
9:00 AM - 9:00 PM
Thursday
9:00 AM - 11:00 PM
Friday - Saturday
9:00 AM - 2:00 AM
Empanada king
Enter your address above to see fees, and delivery + pickup estimates.
Picked for you

Empanadas

Chicken And Cheese Empanada

Mozzarella Cheese Empanada

Spinach And Cheese Empanada

Bacon, Egg, And Cheese Empanada

Chicken And Shrimp Empanada

Guava And Cream Cheese Empanada

King's Apps

Sorullos W/ Mozzarella Cheese

Empanada King Grub

Chimi Burger

A mix of various sausages, cheese and french fries served together with our signature pink sauce for dipping

Snacks

Fruit Smoothies

Natural Juices

Freshly handmade mango juice.

Lemonade mixed with passion fruit.

Fresh lemonade with strawberry flavoring.

Drinks (Soda)

Apple And Eve Juice Box For Kids

100 percent real fruit juice boxes for kids.

King's Fries

Crinkle-cut french fries covered with your choice of seasoned steak or chicken steak, peppers, onions, cheddar cheese, and our signature pink sauce.

Salchipapa (Chopped Hot Dogs) With French Fries

French fries with fried hot dogs chunks.

Buffalo chicken and ranch dressing over crinkle cut french fries.

Cheddar cheese sauce and bacon bits served over crinkle cut fries.

Golden crinkle cut fries covered in mozzarella cheese.
Frequently asked questions
What is the address of Empanada king in Georgetown?
Empanada king is located at: 103 Casey Ave , Wilkes-Barre Township
Is the menu for Empanada king available online?
Yes, you can access the menu for Empanada king online on Postmates. Follow the link to see the full menu available for delivery and pickup.
What are the most popular items on the Empanada king menu?
The most ordered items from Empanada king are: Fruit Smoothies, Chimi Burger, Fries.
Does Empanada king offer delivery in Georgetown?
Yes, Empanada king offers delivery in Georgetown via Postmates. Enter your delivery address to see if you are within the Empanada king delivery radius, then place your order.
Can I get free delivery from Empanada king?
Delivery fees for Empanada king vary. Just enter your delivery address to see the delivery fee for your location. You could always get free delivery from Empanada king with Postmates Unlimited.
Can I pick up my order from Empanada king?
Postmates offers pickup from many restaurants in your city. To see if you can pick up your order from Empanada king, add items to your cart and look for the 'pickup' option at checkout.
Can I schedule a delivery order from Empanada king?
Some restaurants on Postmates allow you to schedule a delivery to show up at your location when you want it. At checkout, look for the option to select a delivery time. If it's there, that means you can schedule your delivery from Empanada king.