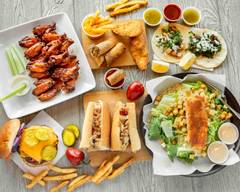 Location and hours
327 S 69th St, Upper Darby, PA 19082
Sunday
11:00 AM - 11:59 PM
Monday
Closed
Tuesday - Saturday
11:00 AM - 11:59 PM
Picked for you

Grilled Salmon Alfredo Pasta

Grilled Salmon with 2 Sides

New and Limited Time

In this section we will be introducing new items and testing reception to them. Some will be limited time only and others if they are received well will make it to the main menu as a regular item.

Maryland Crabcake with 2 Sides

Maryland Crabcake with 1 Side

Italian Hot Sausage Sandwich

Maryland Crabcake Sandwich

4 pieces homemade garlic bread

8oz cup of our homemade cole slaw.

Starters

Finger foods to get your appetite started.

Tacos

3 Soft Shell Tacos served American style (lettuce, tomatoes, shredded cheese) and now Mexican Style (cilantro and onions)

Salads

Choose from our delicious selection of fresh salads.

Entrees

Fresh Salmon, Crabcakes, Flounder, Mussels with 1 or 2 sides

Burgers, Sandwiches and Wraps

Not only are our beef burgers fresh, never frozen, 100% Certified Angus Beef®, half a pound (8oz), but they are also made from ground steak and not ground beef.

Burgers and sandwiches are served with our famous seasoned fries.

Cheesesteaks

Over half a pound of steak meat (10oz) of juicy steak meat served on an Del Luca Bakery, made fresh daily Italian roll. Served with a side of our famous seasoned fries. (Prime Cheesesteak is 8oz).

Wings

Serving organic, fresh and juicy wings straight from the farm. No one else's wings can compare. All our wings are marinated in our secret spicy dry rub and then tossed in your choice of sauce or no sauce. ***We do not honor all flat requests.

Pasta

Creamy and flavorful fettucine alfredo pasta served with your choice of protein.
Now add steamed shrimp to your chicken or salmon alfredo.
**Alfredo sauce will be soaked up by the pasta in a closed container if not consumed quickly.

Shrimp

Our delicious jumbo shrimp marinated in our special seafood seasoning.

Side Dishes

Add one of our delicious sides to your order.

Beverages

Refreshing drinks to enjoy with your meal.

Extras

Sauces, dressings, bacon, seasoning and other extras.
Frequently asked questions