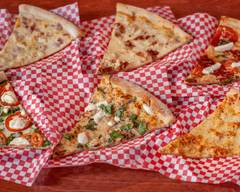 Location and hours
120 S Orange Ave, Orlando, FL 32801
Sunday
10:00 AM - 9:00 PM
Monday - Thursday
10:00 AM - 11:00 PM
Friday - Saturday
10:00 AM - 9:00 PM
Picked for you

Appetizers 

Garlic Knots (Involtini di Aglio)

Mozzarella Sticks (Bastoncini di Mozzarella) (5 pcs)

Uncle Vinny's Side Meatballs ("Le Polpette di Zio Vinny) (3 pcs)

French Fries (Patatine Fritte)

Side Salad (Insalata di Contorno)

Mama's Pasta

Salads

Subs

Uncle Vinny's Meatball Sub

Sausage, Peppers, & Onions Sub

Calzones and Strombolis

Signature Pies

Spinach, Tomato, Ricotta Pie

Create Your Own Pizza

Personal Cauliflower Pie Personal (8")

Wine (Bar Menu)

19 Crimes Hard Chard Wine

House Italian Sangiovese Wine

House Italian Chianti Wine

House Italian Montepulciano Wine

Draft Beer

Desserts

Thick, creamy filling of cheese, eggs, and sugar over a thinner crust topped with a layer of cream cheese.

Perfect combination of italy's favorite lemon liquor and moist cake perfect lemon zest in each bite.

Homemade Chocolate Chip Cookies

Scarlet-colored chocolate layered cake in butter milk icing.

Creamy layered chocolate dessert.