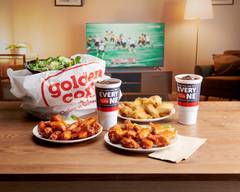 Location and hours
2405 E Highland Dr, Jonesboro, AR 72401
Sunday - Thursday
11:00 AM - 7:00 PM
Friday - Saturday
11:00 AM - 8:00 PM
$36.99

•

3878 - 7599 Cal.

$40.99

•

2534 - 5583 Cal.

$40.99

•

2022 - 4815 Cal.

$32.99

•

8300 - 8700 Cal.

$34.99

•

2266 - 4101 Cal.

$27.49

•

2364 - 5301 Cal.

Wings

Classic finger-licking flats and drumettes, fried and tossed in your choice of sauce.
Buffalo: a spicy and tangy sauce with notes of vinegar, hot sauce, and butter. Spicy, tangy, and savory.
Sweet Bourbon BBQ: notes of Bourbon in a rich cooked tomato, vinegar, sauce with a slightly zesty finish.
Garlic Parmesan: a perfect balance of the pungency/aromatic flavor of garlic and the rich, savory notes of Parmesan cheese.

Available after 4 pm daily.

Sweet Bourbon BBQ Wing Platters

Sweet Bourbon BBQ Wing Meals

Honey Teriyaki Wing Meals

Choose your favorites!Available after 4 pm daily.

Famous Fried Chicken

Golden Corral's perfectly seasoned, golden brown, and crispy fried chicken- just waiting to make an appearance on your table or at your event.

$11.99

•

1950 - 2150 Cal.

$14.99

•

3320 - 3480 Cal.

$26.99

•

4980 - 5220 Cal.

Individual Meals

Generous portions of your Golden Corral Favorites. All entrees come with your choice of two sides and a yeast roll. Dinner Salads come with a yeast roll.

Kids Meals

Family Meals

Build the perfect family meal. Choose from beef, chicken, pork, and seafood entrées, as well as a wide array of sides. Golden Corral's famous yeast rolls are included with every order. Serves 4 to 6 people.

Signature Salads

Sides

Desserts

Delicious desserts baked fresh daily.

Catering

We know how to feed a crowd. Mix and match your favorite Golden Corral classics to create the perfect feast for your group.

Beverages

We proudly offer Coca-Cola® and Dr Pepper® products.
Frequently asked questions