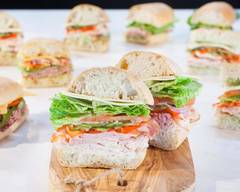 Location and hours
1101 4th St, San Francisco, CA 94158
Every Day
07:00 AM - 07:30 PM
Gus's Community Market - Channel Deli
Enter your address above to see fees, and delivery + pickup estimates.
Picked for you

Russian River Pliny the Elder

Box Lunches and Salads

Mary's Grilled Chicken Caesar Salad

Vegan Harvest Salad

Stockton Street Asian Salad

Sausalito Roasted Sirloin Salad

Side Salads

Gus's Potato Salad (10 oz)

Quinoa Salad with Kale and Golden Beets (8 oz)

Mary's Chicken Salad (10 oz)

Edamame and Feta Quinoa Salad (8 oz)

Kale and Beet Salad (6 oz)

Roasted Brussel Sprout Salad (8 oz)

Signature Sandwiches

Spicy Veggie

Wraps

Dinner (All Day)

Lemon Pepper Rotisserie Chicken

Organic Lemon Pepper Rotisserie Chicken

Dinner (Early Dinner)

Drinks and Sides

Desserts

Petite New York Cheesecake

Beer and Wine

Fort Point KSA Kolsch - 6 pk

Fort Point Villager IPA - 6 pk

Russian River Pliny the Elder

A local new school classic in it's own right, but this perfectly 'modern' version of the original Czech beer is flavorful, refreshing and laced with just enough hop bite. A staff favorite to be sure.

J. Laurens Cremant de Limoux

The perfect example of classic French sparkling wine that has everything you need without the sticker shock of Champagne. Bright acidity, refined bubbles, and a soft mousse, this isn't just fancy on a budget, it is the elegance and enjoyment we all deserve.