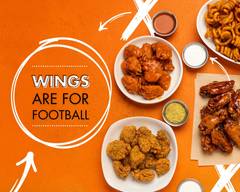 Location and hours
1156 N. Canyon Creek Pkwy, Spanish Fork, UT 84660-1308
Sunday
11:00 AM - 10:00 PM
Monday - Thursday
11:00 AM - 11:00 PM
Friday - Saturday
11:00 AM - 12:00 AM
Picked for you

Combo Meals

From tossed wings to Strips for dipping, enjoy them with your favorite flavor, with curly fries, a side of ranch and an ice cold beverage to wash it down.

Just Wings

Choose your wing style, then your flavor. Want some curly fries with that? We already included them plus a side of ranch.

Just Strips

Our NEW 'Just Strips' are here and you better be hungry! Each order packs a hefty 1/2 pound of crispy, tender, 100% all-natural white meat chicken ready to enjoy with our array of sauce options!

Just Wings: Party Style

Choose your size and wing flavor. Served with curly fries and a side of ranch. You're in for a cluckin' treat!

Add Extra Side Dips & Sauces

We put some of the best culinary minds we know together to come up with these killer sauces. There's something for everyone here, and you can order them on the side to try them out for your next order.

NEW Secret Fry Sauce (mild)

Drinks & Fries

We have a hunch you can't get enough of our fries. Go ahead, add some more and a beverage while you are at it.

Desserts

Whether you like your dessert in a supremely creamy, rich cake form or baked to perfection (wink wink), we've got ya covered!
Frequently asked questions