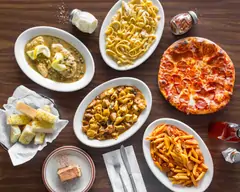 Location and hours
1825 14th Avenue Southeast, Albany, OR 97322
Sunday - Thursday
11:30 AM - 8:30 PM
Friday - Saturday
11:30 AM - 9:30 PM
Johnny Carino's (Albany)
4.5 (16 ratings) • New American • $$
  •  
More info
1825 14th Avenue Southeast, Albany, OR 97322
Enter your address above to see fees, and delivery + pickup estimates.
Picked for you

CLASSIC FETTUCCINE ALFREDO

JOHNNY'S FRESH BAKED LASAGNA

APPETIZERS

Priced by add-ons

•

420 Cal.

HANDCRAFTED PIZZAS

Made with our housemade dough and cooked to perfection in our pizza oven.

SALADS & SOUP

JOHNNY'S CHOPPED ITALIAN HOUSE SALAD

CLASSIC ITALIAN

CHICKEN SPECIALTIES

SEAFOOD

BURGERS & SANDWICHES

Served with fries (350 Cal.). We grill our burgers medium-well.

FAMILY PLATTERS

LUNCH

DESSERTS

Decadent treats large enough to share.

BEVERAGES

KIDS MEALS

For Guests 10 and under.