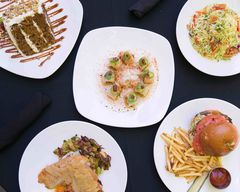 Kona Grill (Kansas City)
4.2
(50+)
  •  
View delivery time and booking fee.
Location and hours
Sunday
11:00 AM - 10:00 PM
All Day Menu
Monday - Thursday
11:00 AM - 02:00 PM
Lunch Specials
11:00 AM - 11:00 PM
All Day Menu
Friday - Saturday
11:00 AM - 11:59 PM
All Day Menu
---
Lunch Specials

Applewood bacon, smoked gouda, lettuce, tomato, chipotle mayo, ciabatta, fries

Southern fried chicken, pickles, bibb lettuce, tomato, bacon, honey mustard, brioche bun, fries.

Braised pork, ham, swiss, pickles, mustard, baguette, sweet potato fries.

Not Your Sister's Veggie Sandwich

Balsamic portobellos, roasted red peppers, lemon mayo, baby greens, grilled sourdough.

Turkey, bacon apple jam, arugula, brie, sourdough, buttermilk dressing, served with russet chips.
Picked for you

Crab salad, motoyaki sauce, cucumber, tempura flakes, eel sauce.

Spicy motoyaki mayo, cucumber.

Spicy tuna, cucumber, tempura crunch, togarashi, spicy motoyaki sauce, eel sauce.

Seared chicken & vegetable dumplings, Asian slaw, traditional soy dipping sauce.

Kona Grill Signatures

Shoyu cream, pineapple-papaya marmalade, miso whipped potatoes, & sautéed broccolini.

Sweet-Chili Glazed Salmon

Shrimp & pork fried rice, crispy soy brussels sprouts.

Double-stacked quarter pounders, lettuce, tomato, grilled onions, American cheese, special sauce, fries.

Crab salad, motoyaki sauce, cucumber, tempura flakes, eel sauce.

Starters

Special sauce, grilled onions, cheddar cheese, lettuce, king's Hawaiian rolls, fries.

5 choice ribeye meatballs with shallot & shiitake, macadamia nuts, chili glaze, creamy peppercorn sauce, whipped potatoes.

Tofu, seaweed, green onion.

Garlic-parmesan croutons, shaved parmesan. Vegetarian.

Bacon, onion, lemongrass, ginger, clams, coconut milk, lime.

Seared chicken & vegetable dumplings, Asian slaw, traditional soy dipping sauce.

Gluten-free & vegetarian.

Jalapeño Yellowtail Sashimi

Sliced jalapeno, cilantro, yuzu ponzu.

Tossed in a spicy citrus aioli.

Spicy aioli dipping sauce.

Grilled skewers, spicy Thai peanut sauce, cilantro, cabbage slaw.

Chicken & Shrimp Lettuce Wraps

Bibb lettuce, cucumber salad, spicy sesame sauce.

Honey-cilantro dipping sauce.

Miso sea bass, furikake, miso aioli, pickled veggies, king's Hawaiian rolls, cucumber salad, russet chips.

Lighter Fare

Double-stacked quarter pounders, lettuce, tomato, grilled onions, American cheese, special sauce, fries.

French roll, prime rib, arugula, shaved parmesan, horseradish cream, au jus served with russet chips

Choice of any traditional roll, oriental salad, one piece of sushi each: shrimp, tuna, salmon.

Choice of: tuna, salmon, tuna & salmon, or shrimp; Choice of: sushi rice or field greens; with green onion, avocado, seaweed salad, cucumber, macadamia nuts, Hawaiian poke sauce.

BBQ sauce, cheddar, smoked gouda, red onion, cilantro.

Napa & red cabbage, green onions, bell peppers, cilantro, carrots, almond ramen crunch, sweet-soy dressing. Vegetarian.

Fall greens, grilled honey crisp apples, applewood bacon, bleu cheese, spiced pecan, tomato, buttermilk dressing.

Greens, grape tomatoes, carrots, garlic croutons, bleu cheese crumbles, cucumber, onion-soy vinaigrette. Vegerarian.

Field greens, eggs, applewood bacon, avocado, white cheddar, grape tomatoes, honey dijon dressing. Gluten-free.

Kona Specialty Rolls

Spicy yellowtail, avocado, yellowtail, jalapeño, cilantro, togarashi, sriracha, yuzu ponzu.

Sushi rice, green onion, avocado, seaweed salad, cucumber, macadamia nuts, Hawaiian poke sauce, choice of: tuna, salmon or both.

Salmon, crab salad, cream cheese, tempura fried, eel sauce.

Spicy tuna, shrimp tempura, avocado, cucumber, soy paper.

Crab salad, cream cheese, jalapeño, tuna, avocado, soy paper, spicy motoyaki sauce, smelt roe.

Lobster & habanero cream cheese, cucumber, shrimp, citrus aioli, cucumber salsa.

Softshell crab deep-fried, crab salad, avocado, cucumber, nori & soy paper, eel sauce

Habanero tuna, avocado, asparagus, tuna, yellowtail, spicy motoyaki mayo.

Toasted macadamia nuts, mango, cucumber, hibiscus nectar cream cheese, soy paper.

Tempura sea bass, crab salad, avocado, cucumber, soy paper, sweet & spicy sauce, fried wonton slivers.

Lobster & citrus aioli, avocado, sesame-soy chili sauce, green onion.

California roll, tuna, salmon, shrimp, yellowtail.

Nori, shrimp tempura, lemon, avocado, yellowtail, mango, togarashi, cucumber salsa, spicy mayo, eel sauce.

Traditional Rolls

Spicy tuna, cucumber, tempura crunch, togarashi, spicy motoyaki sauce, eel sauce.

Crab salad, motoyaki mayo, cucumber, avocado.

Green onion, sriracha, cucumber. Gluten-free.

Crab salad, motoyaki sauce, cucumber, tempura flakes, eel sauce.

Smoked salmon, cream cheese, cucumber. Gluten-free.

Asparagus, avocado, yamagobo, cucumber, sprouts. Vegan.

Spicy motoyaki mayo, cucumber.

Mains

Sweet-Chili Glazed Salmon

Shrimp & pork fried rice, crispy soy brussels sprouts.

Miso Sake Chilean Sea Bass

Shrimp & pork fried rice, baby bok choy.

Chicken, carrot, cabbage, cilantro, chili-garlic sauce, broccoli, bell pepper, sesame, jasmine rice.

Chicken, rice noodles, egg, bean sprouts, cilantro, peanuts, pad Thai sauce.

Parmesan, chili flakes, baby arugula, tomatoes, lemon-garlic cream, garlic bread.

Shoyu cream, pineapple-papaya marmalade, miso whipped potatoes, & sautéed broccolini.

Yogurt-lime marinated chicken skewers, cilantro, pickled red onions, turmeric-almond rice, sautéed broccolini. Gluten-free.

Pan seared, lobster butter, parmesan brussels sprouts, miso whipped potatoes.

Island butter, sautéed green beans, crispy onions, crispy garlic fingerlings.

Togarashi au poivre, shoyu cream, asparagus & parmesan, crispy garlic potatoes.

Togarashi jus, horseradish cream, miso whipped potatoes, asparagus.

Select any kona signature or traditional roll | select one: kona filet, NY strip, or big island ribeye includes green beans & miso whipped or crispy garlic fingerlings

Sides

Sweet Potato Fries and KG Sauce

French Fries and KG Sauce

Crispy Soy Brussels Sprouts

Dessert

Three-layer carrot cake, cream cheese frosting, caramel sauce, toasted walnut.

Chocolate ganache, vanilla & caramel cream, vanilla bean ice cream.

Warm cake, raspberry sauce, vanilla bean ice cream.

Brioche, kahlua caramel sauce, whipped cream, spiced pecans.

Coconut rum, vanilla, grilled pineapple butter, lime zest, toasted coconut, cream cheese sauce.

Seasonal Specials

Sautéed shrimp tossed in angry butter, chipotle mayo, asian slaw, wrapped in butter lettuce leaves.

3 mini crab cakes, remoulade, basil infused oil, togarashi carrot curls.

Filet, sesame chili sauce, asparagus, avocado, green onion, roasted garlic, shrimp, citrus aioli.

Coconut rum, vanilla, strawberry sauce, basil.

Non-Alcoholic Beverages