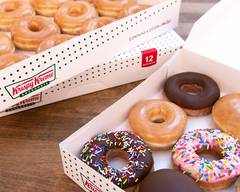 Krispy Kreme (Indian School & 31st Ave)
4.7
(93)
  •  
View delivery time and booking fee.
Location and hours
Sunday - Thursday
05:45 AM - 09:45 PM
Friday - Saturday
05:45 AM - 10:45 PM
3201 W Indian School Rd, Phoenix, AZ 85017 • More
---
Doughnuts

A dozen of our iconic Original Glazed®doughnuts

An assortment of our classic doughnuts, selected just for you.

A dozen doughnut incantations for your spooky celebration! Enjoy a Halloween Dozen today in a limited-edition Spellbook box containing 3 Bewitched Broomstick, 3 Abra Cat Dabra, 3 Enchanted Cauldron, and 3 Spooky Sprinkle Doughnuts!

Coffee & Drinks

96 ounces of fresh brewed coffee. Your Brew Box will arrive with 10 cups, lids, sleeves and stir sticks. 20 creamers and sugars and 10 Splenda® sweeteners.