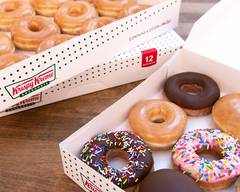 Krispy Kreme (W Chester Pk & N Eagle Rd)
4.5
(22)
  •  
View delivery time and booking fee.
Location and hours
Sunday - Thursday
06:00 AM - 08:45 PM
Friday - Saturday
06:00 AM - 09:45 PM
---
Doughnuts

A dozen of our iconic Original Glazed®doughnuts

An assortment of our classic doughnuts, selected just for you.

A dozen doughnut incantations for your spooky celebration! Enjoy a Halloween Dozen today in a limited-edition Spellbook box containing 3 Bewitched Broomstick, 3 Abra Cat Dabra, 3 Enchanted Cauldron, and 3 Spooky Sprinkle Doughnuts!

16 Count Original Glazed® Minis

16 of the iconic Original Glazed® Doughnuts, now in mini form!

16 Count Assorted Halloween Minis

Enjoy a box of spooky-sweet Halloween minis, containing 4 each of our Mini Pumpkin, Mini Spooky Drizzle, Mini Chocolate Iced with Sprinkles, and Mini Original Glazed® doughnuts.