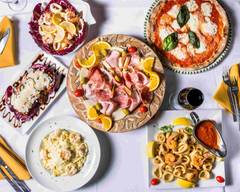 Location and hours
8595 College Parkway, STE 270, Cypress Lake, FL 33919
Sunday - Wednesday
Closed
Thursday
06:00 PM - 11:00 PM
Friday
06:00 PM - 11:59 PM
Saturday
05:00 PM - 11:00 PM
Laugh In Comedy Cafe
Enter your address above to see fees, and delivery + pickup estimates.
Pizza

14-inch artisan pizza with our special house cheese blend.

Mains

Ham, bacon, sausage, and pepperoni.

Alfredo sauce, Philly style Angus beef, and caramelized onions.

Alfredo sauce, seasoned and grilled chicken breast, bacon, and red onion, cheddar Jack sprinkle, and ranch drizzle.