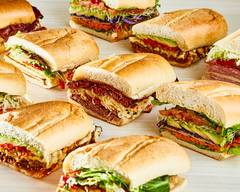 Lenwich - Upper W. 83rd St
4.7
(70)
  •  
View delivery time and booking fee.
Location and hours
Every Day
07:00 AM - 06:45 PM
---
Picked for you

Our Faves

Cold'wich

Chicken

Spicy

Fish

Veggie

Chef's Selection

Specialty Salads

Create Your Own

Create Your Own Sandwich

Black Forest Ham Sandwich

Cracked Pepper Turkey Sandwich

Fresh Oven Roasted Turkey Sandwich

Spicy Tuna Salad Sandwich

Spicy

Cheese Sandwich

Mozzarella Cheese Sandwich

Jalapeno Monterary Jack Cheese

Provolone Cheese Sandwich

Alpine Cheddar Cheese Sandwich

Alpine Swiss Cheese Sandwich

Fresh Mozzarella Cheese Sandwich

Smoked Gouda Cheese Sandwich

Mains

Snacks and Chips

French fries with crumbled blue cheese and creamy horse radish dressing.

Specialty Beverage

Iced Specialty Beverages

Beverages

Desserts

Jumbo Chocolate Chip Cookie

Jumbo Black and White Cookie

Burgers

Lettuce, tomato, red onion & sliced pickles.

Bacon, cheddar cheese, caramelized onions & BBQ sauce.