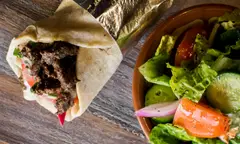 Location and hours
3673 W 13400 S, Riverton, UT 84065
Sunday - Monday
Closed
Tuesday - Friday
11:00 AM - 8:30 PM
Saturday
12:00 PM - 8:30 PM
Local Greek
Enter your address above to see fees, and delivery + pickup estimates.
Build Your Own

comes plain with meat, you must choose toppings and sauce.

Build Your Own Salad Bowl

Sides

fresh green beans fried and tossed with salt and feta.

come loaded with tomato, onions, peppers, cucumbers, olives , feta, tzatziki sauce and red pepper sauce and balsamic glaze.

tomato, onions, cucumbers, feta, kalamata olives, tossed in vinegar and olive oil and salt and oregano ( no lettuce or greens).

hummus comes topped with olive oil and parsley with seasoned baked pita.

Yiayia's Homemade Desserts

vanilla custard cake with a honey syrup.