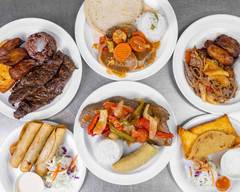 Location and hours
119 Nw 12th Ave Miami, FL
Every Day
7:00 AM - 12:00 AM
Pinolandia (Miami)
Enter your address above to see fees, and delivery + pickup estimates.
Picked for you

Entrees

Seasoned pork chunks served over a bed of cassava topped with salad.

Pechuga De Pollo A La Placha

Chicken steak marinated in lime juice.

Baho (Friday, Saturday, and Sunday Only)

Our beef brisket is cooked to perfection together with cassava, green plantain, and sweet plantain, topped with salad.

Appetizers

3 shredded beef tacos rolled up, served with cream and salad.

Fried green plantains with fried cheese, served with salad.

Sweet plantains with fried cheese served with salad.

Corn tortilla filled with rice and shredded beef served with salad.

Fried chayote with cheese.

Flour tortilla filled and rolled up with cheese, cinnamon, and sugar.

Individual Items

Authentic Nicaraguan rice and red beans.

Two corn tortillas to get your tastebuds going.

Order of sweet fried plantains.

Order of fried green plantains.

Nuestra ensalada de repollo con zanahoria en vinagre y sal.

Quesos

Bandejas

Bandeja de Gallo Pinto (10 personas)

Sopas (Soups)

Sopa de Mondongo (Solo Domingo)

Una delicia de mondongo y patitas de res y sus verduras en una sola taza, para un Domingo en casa.

Sopa de Gallina con Albondigas (Solo Jueves)

Es una de las predilectas por los Nicaragüenses!

Sopa de Mariscos (Solo Viernes, Sabado y Domingo)

Jaiba, Pescado, Calamari, Pata de Cangrejo y mucho mas en un consume listo para beber y caer a dormir.