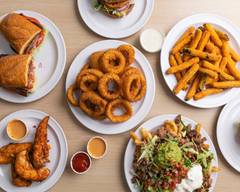 Location and hours
4890 South Motor Lane, Ontario, CA 91761
Sunday
7:00 AM - 8:30 PM
FOOD.. (3PD)
7:00 AM - 8:30 PM
BEVERAGE.. (3PD)
Monday - Saturday
5:00 AM - 9:30 PM
FOOD.. (3PD)
5:00 AM - 9:30 PM
BEVERAGE.. (3PD)
R Burgers (Ontario)
4890 South Motor Lane, Ontario, CA 91761
Enter your address above to see fees, and delivery + pickup estimates.
Picked for you

Trio Breakfast Burrito ** Most Popular **

Clubhouse Classic with fries

Combos..

#9 Crispy Chicken Sandwich

#8 BBQ Bacon Ringer Burger

#10 Grilled Chicken Breast Sandwich

Burgers..

Huge Breakfast Burritos..

Hand Breaded Chicken Tenders..

Sandwiches..

Melts..

Salads..

Breakfast Sandwiches..

Breakfast Combos..

Breakfast Plates..

Breakfast Off The Grill..

Tacos..

Burritos..

Mexican Plates..

Plates include your choice of Carne Asada or Chicken Tacos; served with beans and rice.

Sides..
Frequently asked questions