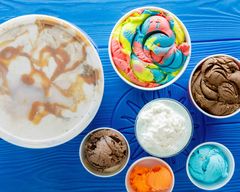 Location and hours
5150 W Baseline Rd #102, Laveen Village, AZ 85339
Sunday
Closed
Monday - Saturday
12:00 PM - 08:30 PM
Scooptacular
4.8 (15 ratings) • Ice Cream + Frozen Yogurt • $
  •  
More info
5150 W Baseline Rd #102, Laveen Village, AZ 85339
Tap for hours, address, and more
Enter your address above to see fees, and delivery + pickup estimates.
Ice Cream

Chocolate Chip Cookie Dough

Chocolate Covered Strawberry
Frequently asked questions
What is the address of Scooptacular in Phoenix?
Scooptacular is located at: 5150 W Baseline Rd #102, Laveen Village, AZ 85339, USA , Phoenix
Is the menu for Scooptacular available online?
Yes, you can access the menu for Scooptacular online on Postmates. Follow the link to see the full menu available for delivery and pickup.
What are the most popular items on the Scooptacular menu?
The most ordered items from Scooptacular are: Cookie Monster, Laveen Concrete Mix, Butter Pecan.
Does Scooptacular offer delivery in Phoenix?
Yes, Scooptacular offers delivery in Phoenix via Postmates. Enter your delivery address to see if you are within the Scooptacular delivery radius, then place your order.
Can I get free delivery from Scooptacular?
Delivery fees for Scooptacular vary. Just enter your delivery address to see the delivery fee for your location. You could always get free delivery from Scooptacular with Postmates Unlimited.
Can I pick up my order from Scooptacular?
Postmates offers pickup from many restaurants in your city. To see if you can pick up your order from Scooptacular, add items to your cart and look for the 'pickup' option at checkout.
Can I schedule a delivery order from Scooptacular?
Some restaurants on Postmates allow you to schedule a delivery to show up at your location when you want it. At checkout, look for the option to select a delivery time. If it's there, that means you can schedule your delivery from Scooptacular.