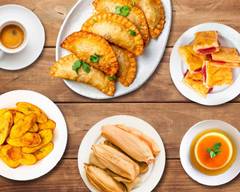 Location and hours
10333 Pines Boulevard, Pembroke Pines, FL 33026
Every Day
8:00 AM - 10:59 AM
Early Morning Menu
11:00 AM - 6:00 PM
All Day Menu
Sedano's Cafe (Pembroke Pines)
Enter your address above to see fees, and delivery + pickup estimates.
Picked for you

Sandwich and Salad

Roasted Pork Sandwich/ Pan con Lechon (8476)

Ham & Cheese Spread Bocaditos Sandwiches (8843)

Ham & Cheese Bocadito Sandwiches (8842)

Chicken Caesar Salad/Ensalada Caesar Con Pollo (75152)

Caesar Salad/Ensalada Caesar (75153)

Sedanos Signature House Salad/Ensalada De La Casa Sedanos (75154)

Potato Salad 16 oz. (8833)

Macaroni Salad 16 Oz. (8835)

Ham and Cheese Spread/Pasta de Bocaditos (8844)

Chicken Salad/ Ensalada de Pollo (8846)

Croissant Ham & Cheese (8413)

Deli Sandwich Ham & Cheese (8400)

Deli Sandwich Chicken (8401)

Fresh Cheese Cobb Salad (8422)

Deli Sandwich Tuna (8402)

Sedano's Tuna salad on whole wheat bread/ Ensalada de tuna Sedano's en pan integral.

Bakery

Cuban Pastries/ Pastelitos Cubanos

Cuban Toast/ Tostada Cubana (8463)

Ham Roll/ Cachito de Jamon (8524)

Cuban Bread Loaf /Pan Cubano (8116)

Sedano's Cuban Rolls 8 Pck (8406)

Cidrinis Bread Rolls 2 Pck (8428)

With its authentic flavor and sweetness, Cidrines Pan Sobao makes a perfect addition to your meal. Two 7oz loaves p/pack/ Con su autentico y dulce sabor, este pan es el complemento perfecto a tu comida. Dos panes de 7 oz po/pack

Spanish Tortilla Slice (8724)

Slice of tradition, egg omelette with potatoes and onion/ Una porcion de tradicion, tortilla de huevo con papa y cebolla.

Sedano's French Baguette (8404)

Sedano's Puerto Rican Bread (8188)

Desserts (Postres)

Three Milks /Tres Leches (75174)

Rice Pudding /Arroz Con Leche 6 oz. (75175)

Dulce de Leche 6 oz. (75176)

Corn Pudding/Majarete 6oz. (75179)

Custard/Natilla 6oz. (75181)

New York Cheesecake 16 oz (8420)

NY Cheesecake Variety 16 oz (8421)

Desserts to Share/Postres Para Compartir

Sedanos Signature Cheesecake

Bread Pudding/Pudin De Pan 7"

Sedanos Cheese Flan/ Flan De Queso

Tocinillo - Egg Custard 7" (75189)

Edda's Vanilla Rum Cake /Edda's Rum Cake de Vainilla (75191)

Apple Pie/ Pie de Manzana (8831)

NY Cheesecake Variety 40 oz (8419)

Simple fritters or fried donuts made with root vegetables stach aserved soaked in a spiced syrup/

New York Cheesecake 40 oz (8418)

Father's table brand, top with your favorite jam or fresh fruit. serves 10 to 12 people/ Cremoso cheesecake perfecto para acompanar con tu topping favorito. 10 to 12 porciones

Grandma Chocolate Cake (8412)

Layers of biscuit with a cream and chocolate filling make this the ideal dessert. Serves 10-12

Beverages (Bebidas)

Fresh Orange Juice/ Jugo De Naranja Natural 16 Oz (8139)

Sugar Cane Juice/ Guarapo 16 Oz (8465)

Sedano's Canned Tropical Juices/ Jugos Tropicales Sedano (8498)

Sedano's Water/ Agua Sedano's 16.9 Oz (8192)

Heat and Eat

Mini Colombian Empanadas Pack

Mini Croquette Party pack. Just reheat and enjoy.

Mini Croquette Party pack. Just reheat and enjoy.