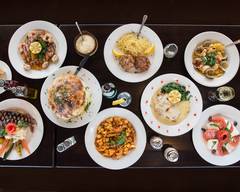 The Quick Fixx
4.7
(198)
  •  
View delivery time and booking fee.
Location and hours
Every Day
11:30 AM - 08:35 PM
---
Pasta.

Penne, tomato, chicken cutlet, melted mozzarella

Served with grilled chicken and broccoli

Soft ricotta gnocchi layered with cream and Bolognese topped with melted fresh mozzarella

Soft ricotta gnocchi layered with cream and primavera sauce topped with melted fresh mozzarella

Rigatoni, slow cooked tomato sauce, fresh mozzarella and fresh basil

Served with smoked bacon and broccoli and baked bread crumbs

Grilled chicken and green beans over a bed of fettuccine in a creamy mushroom sauce

Our version of the classic Carbonara. Fresh fettuccine in a creamy roman sauce with smoked bacon, lemon zest and pecorino romano.

Spaghetti & Meatballs w/ Meaty Marinara

Spaghetti, lemon butter, shrimp, tomato, and fresh parsley. **** [NOTE: due to global supply shortages, this dish is no longer served with calamari until further notice.] *****

Cheese tortellini, shrimp, spicy tomato sauce, roasted almonds and gremolata.

Wraps.

Spicy bbq fried chicken, avocado, bacon, lettuce, tomato, red onion, mozzarella, cheddar and ranch

Grilled chicken, parmesan, romaine, tomato, red onion and caesar dressing.

Grilled chicken , pesto aioli, cherry tomato, fresh mozzarella, arugula

Pesto, fresh mozzarella, roasted red pepper, grilled zucchini, baby spinach and roasted almonds.

The Royale w/ Cheese Wrap

Our version of the classic cheeseburger. Ground beef, mozzarella, cheddar, lettuce, tomato, onion, banana-pepper relish, and ketchup.

Roasted turkey, cranberry aioli, spinach, bacon, dried cranberries, fontina

Roasted turkey, ranch, avocado, bacon, lettuce, tomato, red onion, mozzarella and cheddar.

Flatbreads.

Basil pesto, grilled marinated chicken, fontina and red pepper crema

Truffled Kennett Square mushrooms, rosemary dough, fontina and baby arugula

Spicy bbq fried chicken, sautéed onions, gorgonzola and a chili aioli drizzle.

Maddie Meatball Flatbread

Tomato, meatballs, sautéed onion, shredded mozzarella and grated parmesan

Basil pesto, sundried tomato, artichoke heart and crumbled goat cheese

Tomato, basil and fresh mozzarella

Dijon mustard, prosciutto, shaved Parmesan

Salads.

Baby spinach, quinoa, dried cranberries, avocado, fresh mozzarella, bell pepper, green beans, and roasted almonds with a citrus herb vinaigrette.

Romaine, tomato, cucumber, red onion, bacon gorgonzola, and fried chicken or fried calamari tossed with Parmesan Peppercorn Ranch.

Arugula, grilled chicken, pearled couscous, sundried tomato, broccoli, shredded carrots with a lemon vinaigrette

Mixed greens, roasted beets, goat cheese, red onion, sliced apple dusted with pistachios and served with a white balsamic vinaigrette

Romaine, cherry tomato, parmesan, crostini, caesar

Baby arugula, parmesan, lemon vinaigrette

Mixed Greens, cherry tomato, red onion, cucumber, white balsamic

Build Your Own.

Desserts.

Fresh Baked Cookies Small

Fresh Baked Cookies Large

Peanut Butter Chocolate Pie

Quickies.

Toasted baguette with whipped garlic butter

Tomato, garlic, basil and balsamic pearls.

Regular or Jalapeno Served with blended sour cream, garlic, and chives

Honey mustard or barbecue

Deep fried whole milk mozzarella

Plain, Old Bay, or Parmesan

Brussel sprouts wrapped in smoked bacon and fried.

Fried egg, cheddar cheese, smoked bacon or sausage on an oversized English muffin

Kiddie Fixx.

Tube-shaped pasta with butter or red sauce. (Add a meatball $1)

Ear-shaped pasta, cheddar cheese, broccoli and baked bread crumbs

Sides.

Side Sautéed Brussel Sprouts

Drinks.